03 April 2019
Les Gets - Spring Lounge Music Festival in March - Review
One of the many exciting events that takes place in Les gets over 2019 is the Les Gets Lounge Music Festival. You may say that lounge music doesn't sound very exciting, that it seems like it would be very laid back jazz, but that's where you would be wrong!
Normally the festival takes place in the summer when it's warm and sunny, but this year it's also taking place in late March, the idea being that at this time of year it's generally warmer, and guess they hit the nail on the head this time as we have had an unbridled couple of weeks of pure blue skies and sunshine.
This year the weather has been so good that there are a lot of people wandering the village with the ubiquitous panda eyes, you know, brown face and white goggle eyes!
There is nothing better than having a great day on the slopes and to ski to a stage and listen to some awesome sounds with a cold drink in your hand. Even if you don't ski, there are plenty of open air stages set up throughout the village which are wheelchair accessible and you will be spoilt for choice regarding the genres of music you can listen to.
The music takes place in a variety of locations from the village and onto the ski slopes, Altogether there are 9 days of 25 concerts, at various times during the day so if you can't make a gig at 2 o'clock try 5 or 9 o'clock.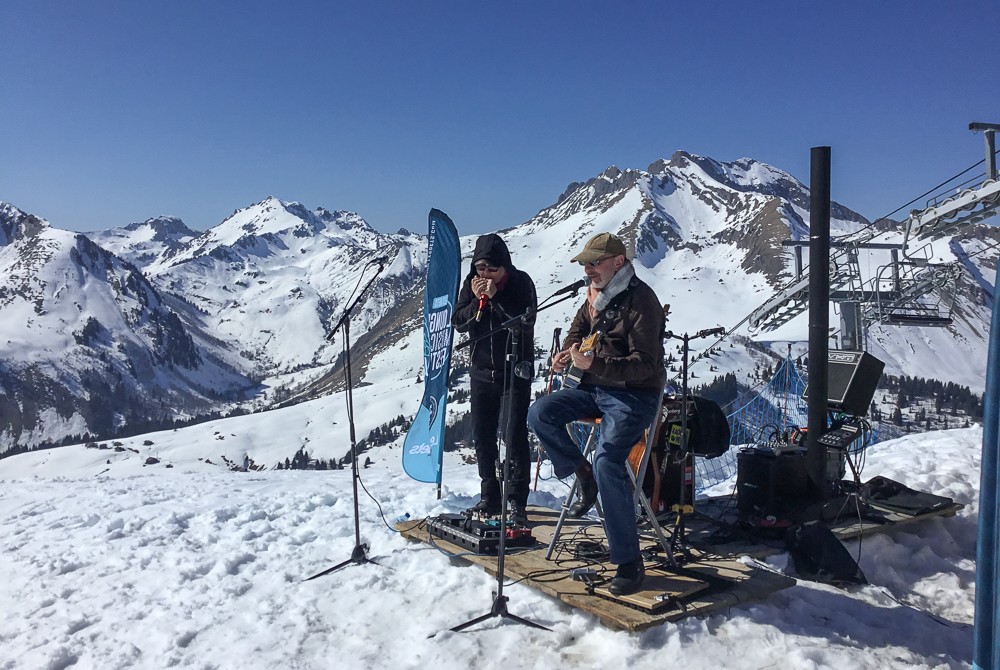 If you are familiar with Les Gets you might recognize some of these locations, the Chasse Montagne restaurant just at the bottom of the folliets chairlift with its stunning views hosted Cisco Herzhalf and Richie Faret an absolutely wonderful group playing blues with steel guitars.
At the bottom of the ranfolly chairlift, just off the piste, Rythm n' Wood were playing their own style of reggae. Uptown Lovers were playing soul, pop and funk in the Jeux Trinques a lovely little bar by the post office. Meanwhile we had Coffee Tone smashing out covers of Stevie wonder, James Brown and Michael Jackson at the new Vina Annapurna complex near the medical center. Dixie Trio entertained us with jazz at the top of the Rosta chairlift, everyone getting down to their unique style music.
That gives you a very small taste of the type of music that thoroughly entertained Les Gets. There is nothing quite like boogieing to some cracking tunes on your skis or strapped into your board. So if you haven't decided when to book your next ski trip you could do a hell of lot worse than making sure it coincides with the Spring Lounge Music Festival in Les Gets.
Dave Lynch

Apartment Edith - Light, airy apartment with fantastic views of Les Gets. Ski back route and bus stop outside

7

3

2