Our Story at Chalets1066 - Learn more about us
x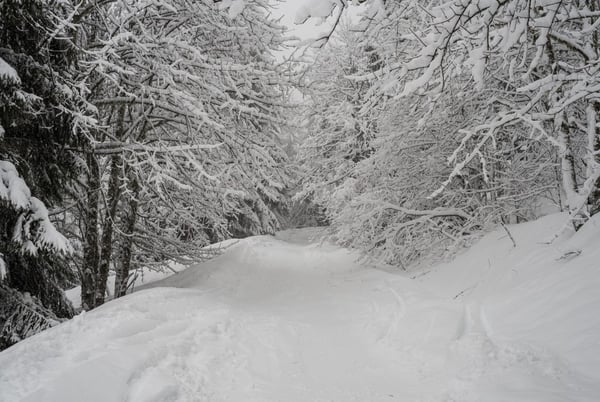 After many years of wonderful holidays in the Lake District, when our two boys became teenagers, my husband first came with our sons to Les Gets for a mountain bike holiday in 2000; they had a great time and returned year after year. Our boys were finding the Lake District a little too tame and really enjoyed the mountains.
In 2005 we bought our first apartment in Les Gets – Bayeux – a large 4 bedroom apartment – on the top floor of the Hastings Chalet. This was run as a Residence de Tourisme (self-catering with hotel services). The picture opposite is taken from very close to Chalet Hastings - of the last part of the ski back route - need I say more about what drew us to Les Gets!
Two years later, the owner of the management company decided to move to Canada for family reasons. This coincided with our youngest daughter going to university.
I (Susan) was keen to take on a new project and so decided to take over the running of Chalets1066 in 2008. Based on how the previous owner had run the business, it would be easy to manage remotely.
The first year of trading was, quite openly, a baptism of fire – the financial crash of 2008 occurred just a few weeks after we took on the business. We were expecting a hard learning curve, but not the challenges of the recession at the same time.
We decided that the only way forward would be to grow the business significantly, for Mark to continue working in IT/Consultancy Sales in the UK and at the same time for him to work weekends on marketing and accounts, and for me to spend ski seasons in Les Gets. Living this life, with Mark traveling at weekends to Les Gets was not easy, but was the only solution at the time given the challenges we were faced with.
Our hard work has paid off, we have now sold our house in the UK and live at Chalet Hastings. We work long hours - there is a tremendous amount still to do, but we have the benefits of the mountains around us and Mark is doing one job rather than two ( though at times it still seems he is working as hard as when he was doing two jobs!). We are fortunate in having a great team around us, you can see most of these in the section 'Our Team'. Our younger son, Ben, who was in the Royal Marines when we bought the business, now is Operations Director.
In addition to a great permanent team in Les Gets, we also have many people who have worked with us for 10 years or more, these, in particular, include: Ian Gibbons and Matthew Philogene - who have worked with Mark on the website reservations and operations systems, and, under Mark's management, together they have implemented advanced technology to our business.
We also have great partnerships with many local businesses - for example, Chef Services, the Patisserie, Ski Mobile, etc, these are very important to us in ensuring we can deliver great service to our customers we also have very good relationships with many local tradesmen - which are important for the maintenance of the chalets and apartments we manage.
We love Les Gets; it is a beautiful area all year round. For us, this is a long-term plan and we are certainly not doing this for short-term monetary reasons!
Susan
We are established as a French Business: SARL Vacances aux Chavannes,
Siret Number:- 504 384 090 00016
VAT Number is FR06 504 384 090