MTB for Families in Les Gets - Information - E bikes
x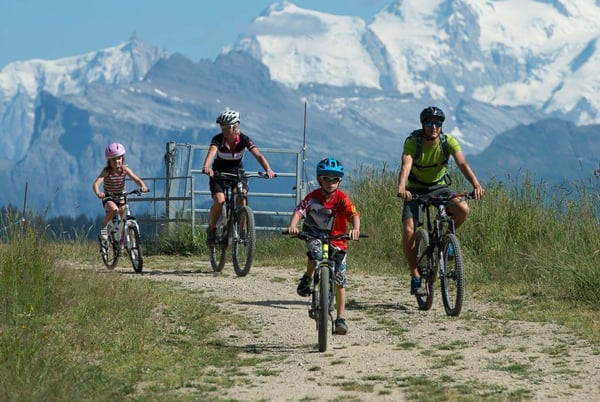 Les Gets is world renowned for mountain biking, hosting Crankworks (an international freestyly competition) the Down hill world cup, Frances national DH and many other professional competions.
So undoubtedly Les Gets is ideal for the extreme mountain biker, but is it suitable for families?
The simple answser to the question is - absolutley. Les Gets has a huge range of mountain biking terrain, suitable for those just wanting to explore the mountain with little mountain biking experience, fun safe terrain for small children and hundreds of kilemoters of cross country single track for the fit but cautious cyclist.
Les gets is Located in the Portes Du Soleil which, in the winter is 12 ski resorts on one lift pass, and in the summer many of the lifts re-open with mountain bike attachments giving you easy access to endless mountain bike trails.
The runs are graded like ski runs, Green is the easiest then blue, red and black for the extreme rider. Which helps you keep your self riding with in your ability. If you are new to moutnbiking, it is adviserable to employ a guide for the day who can help you with your technique and navigating around the mountain finding the best trails for you. Of which there are many mountain bike schools in les gets, Link. to start the chavanne is easily accessible from the express lift in the village center, and there are two excellent Green runs to get you started and go from there
E bikes
Relatedly new to the market and have hit the mountains with a storm, theses are motor aided cycles giving you a small push up the steep terrain. Great if cyclists of different fitness levels would like to cycle together, one person on the E bike and one on a normal bike is a common site on the mountains. They are also great fun for exploring the area on the roads.