Ski Passes delivered to your chalet - Order on our website
x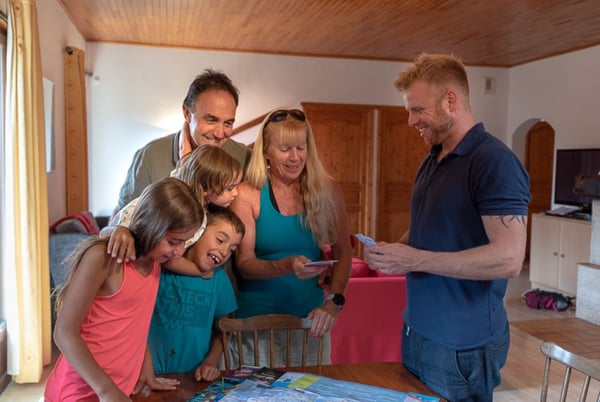 Ski Pass Booking Online
As a Chalets1066 customer, the benefits of booking your ski pass with us are:
we deliver the ski pass to your chalet so it is sitting on the table on your arrival, this saves you valuable time in queues in the village
you pay less than you pay when buying at the desks in the village
We are authorized by SAGETS, the ski pass company, to issue passes for both Les Gets/Morzine (LGM) and Portes du Soleil (PDS). Our list prices are around 10% less than if you buy your ski pass face to face at the desks in the village and exactly the same as the internet prices on the SAGETS website ( note we have to add a 1.5% booking fee - so after this, our prices are around 8.5% less than buying in the village).
If you use our website to book and you are making a group booking, you will automatically qualify for a 5% discount on our list prices if you satisfy the group booking criteria:
minimum 4 days
Minimum 4 people
All passes must be either LGM or PDS
Same start/end date for all people in the group
We can only deliver ski passes bought via Chalets 1066. To order Ski Passes, click on the link below, you will be asked to put in the following information for each person:-
Name
Les Gets Morzine ( LGM) or Portes du Soleil ( PDS) pass
Date of birth - this is used to calculate if the rate is Child, Young Person, Adult or Senior rate.
Number of days you want the pass for
If you want a card or just your ski pass renewed
If you want the ski insurance provided by SAGETS. Please note, TrustiWay gives excellent travel insurance which also includes piste insurance.
You can either pay immediately or you will be sent an e-mail with a link to pay later. You must pay within 48 hours otherwise your request will be automatically canceled. You can update the request within the 48-hour period.
It is possible to have an extra day or half a day's skiing by ordering ski passes and equipment to be delivered to Chalet Hastings where we are based*
Note: we cannot be involved in ski passes not booked via our systems. If you have any questions on passes or booking ski passes, please email info@chalets1066.com or call us.
* To maximize your skiing time you need to;
Arrive early on the first day of your holiday and come to Chalet Hastings.
Have your equipment delivered to Hastings by Ski Mobile.
Leave your bags with us, get changed and head out skiing.
At the end of your days skiing, you will need to arrange for transport of your bags with Ski Transfers to your property, if you dont have a car. This MUST be arranged in advance.
On your final day, do the same in reverse to get an extra day or half day's skiing.