Les Gets Golf Course - 18 holes - All the information
The Les Gets 18 hole golf course has exceptional panoramic views. The course follows the natural flow of the mountain and each hole is named after a local mountain. There is a fleet of 30 electric golf carts and a super restaurant. Situated on the Route Des Chavannes, there is ample parking.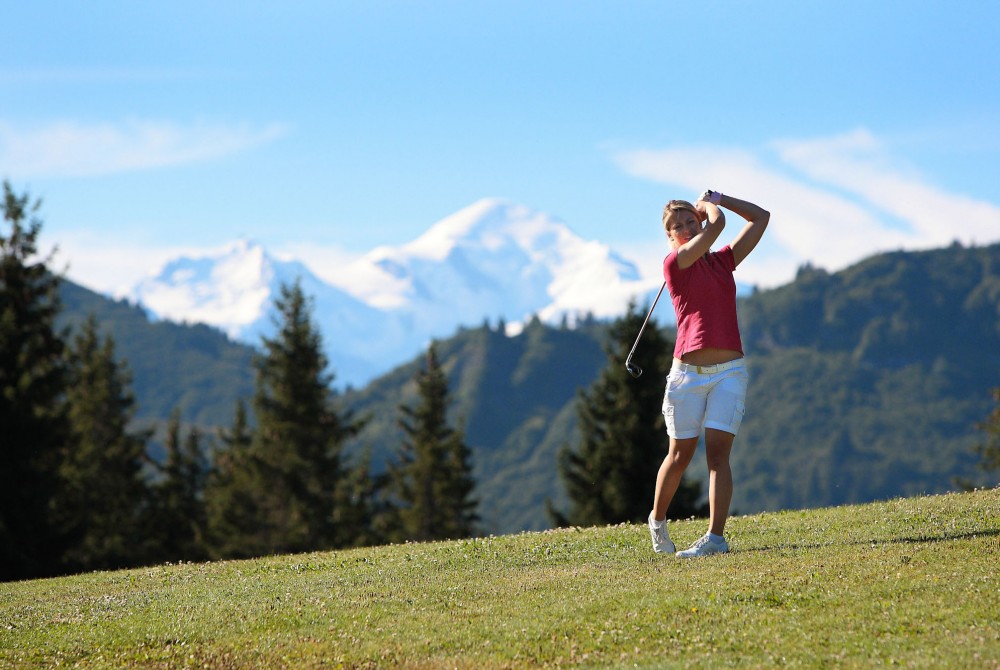 Golfers await their fate on a course that will excite their inner core, but is also very capable of severely damaging his or her ego.
The first hole on the Les Gets Golf course is not long, at some 340 metres, but the green is somewhat raised from the sloping fairway, and overshooting can bring nasty results. A steep climb to the second tee reveals a short par 3 with a large green; the tee shot is simple and pleasant, but the green is not as it slopes and bends its way, seemingly conniving to eliminate any arrogance of a good first drive.
By the third tee, the splendid beauty of the course really comes into its own, and a fairly tight fairway does permit a logical par 4. However, after another steep climb to the 4th tee, and another sloping fairway greets the long drive neccessary to have any chance of a par 4 - hazards abound, and the walkers on the pathway will do well to keep their heads down. On the 5th the newcomer is rapidly adjusting to the course, and by now will be playing safe and be concentrating on avoiding water - the shot to the green offers a choice between water, trees, and perfection. Ecstasy or a lost ball.
The 6th is another par 3, simple enough if you hit the green at the front - all other options are distinctly less favourable, as the middle can lead to an overshoot and lost ball, and the fairway.....well, there is no fairway, except a few trees and a narrow slope.

And so it goes on. Challenging is the word, impossible it isn't. Accuracy is much more important than power, and once the Les Gets golf course is known, then it will radically change your approach. I have played the course many times, and rarely felt that it should have been tennis that day. It is tiring, but this can be dealt with by hiring a 4 wheel drive Kawasaki buggy.

Les Gets golf course website
Other courses
During your stay, you can try the delightful, albeit flatter, course at Chamonix, and also the beautiful Royal Evian course overlooking Lac Leman. Further afield the courses at Flaine and Annecy will also keep you interested.