Les Gets - Ski day on Mont Chery in January - Ski conditions
05 January 2013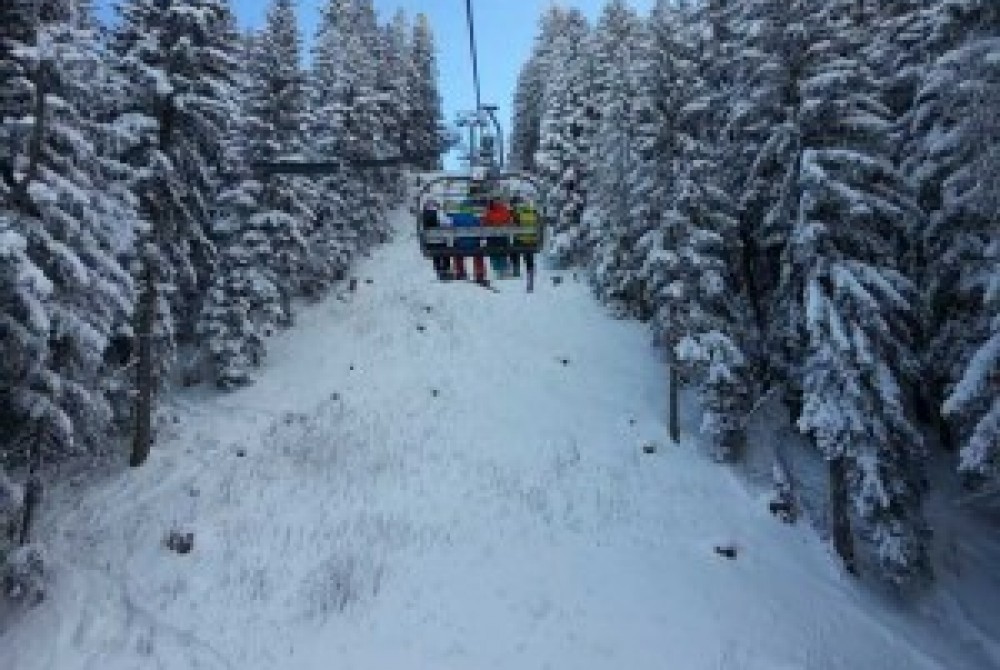 While the Chavannes side of Les Gets is busy, today I spent a couple of hours on Mont Chery and there were no queues at the lifts at all.
When you get to the top of the 'bubble' lifts going up Mont Chery, there is a telescope and amazing views over Les Gets village.
Mont Chery does not have the large number of pistes as the Chavannes side, but I find these all to be good, my favourite is Marmottes – on the far side of the Mountain – this is mostly wide, not a hard red, and at the bottom you can chose between a black and a red – the black goes past a café – it is not really a black at all – just a continuation of the red – and the stop off at the café is well worth it. Last year they had a hen wandering around with a notice around it's neck advertising their menu!
On my return, I also stopped for a hot chocolate at La Grande Ourse restaurant – on the Oursin piste - this has wonderful views over Les Gets, they were telling me that they have been running evening meals on Wednesday and Thursday evenings and so far they have sold out 100%. To get customers to the restaurant in the evenings, they spent some 300,000 euros on a large snow transporter. The quality of the meals is seen as excellent, they told me they charge 85 euros a head for a 3 course meal with a glass of Champaign (35 euros of this is needed to cover the cost of the transport!). Their web site is at: http://www.lagrandeourse.eu/ The picture opposite is of Le Grande Ourse in 1950.
The week has been exceptionally busy for Sue, Morven and the staff – everywhere is full in Les Gets and Morzine, finding a restaurant at short notice is very difficult and getting ski lessons at short notice impossible! the snow is amongst the best we have seen at this time of year. As well as skiing, I have worked on various technical issues – for example –ensuring our VOIP phone system is working correctly, etc.
A selection of our accommodation