Mountain Walks and hikes around Les Gets - Routes
x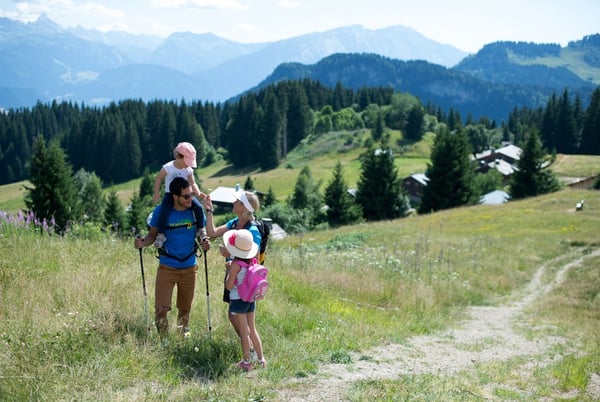 When planning a walking holiday the places which come to mind are usually; the UK Lake District, Scottish highlands, maybe Corsica or Chamonix for something more extreme.
Les Gets is somewhere usually associated with Family skiing holidays in the winter and extreme mountain biking in the summer, however it is hiding some of the best walking routes in the world.
In the summer it is easy to divert away from the hustle bustle of the mountain bike runs and trek along walkers only paths, with infinite routes to explore.
There are many beautiful alpine lakes and waterfalls to see, with spectacular views every step of the way. The mountain range by les gets sits above and below the tree line with a beautiful range of vegetation and wildlife to see, spotting a Golden eagle, Kite or Marmottes are not a rare sight, seeing a Chamois climbing the rocks where even an experienced rock climber would struggle is something never to forget.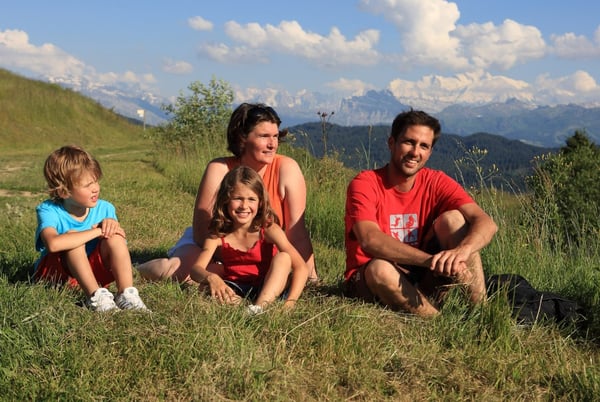 For someone who is not accustomed to hiking, there is a huge range of very easy walks, right out of your back door in Les Gets such as the summit of Mont Chery and La Randfolly and more just a short drive away, on the quiet well maintained mountain roads such as from Lac Montriond to Cascade d'ardent (a spectacular waterfall). Both these routes have restaurants/cafe's on the route if you want to take it even easier and at the Belvedere restaurant on Mont Chery, they often have a live band playing in the summer.
For the more ambitious hiker there are many excellent routes such as the Roc D'Enfur ( you can start at 1220m and climb to 2244m) and many other summits in the area, a guide is advisable but not necessary with the right amount of research.
For winter walks however a guide is highly recommend, during the winter season, les gets re opens as world class ski resort, and for the non skier, the snow shoe hiking routes are endless, with many off the beaten track routes to hidden alpine refuges and restaurants, only visited by the adventure ski randone and snow shoe hiker. The Crapper Hut is located up the Vallee De La Manche hidden between Mount Nyon and Ressachaux and many more.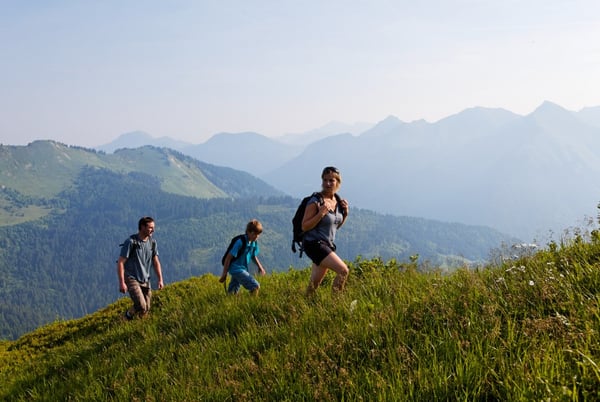 Example of local routes
Lac Des Ecoles
This is a beautiful spot in les gets with a great atmosphere, a swimming lake located right next to the mountain bike area, walking paths and volley ball, a great spot for the family to meet who are doing different activities. The walk to the Lac is something virtually all abilities are capable of.
Le Ranfolly altitude 1770m
An entry level hike to a high point of les gets, with spectacular views of Mont Blanc and Roc D'Enfer, accessible by many different routes ranging from just 158m vertical from the top of the Chavannes bubble or if you want more of a challenge, you can start in the village and the vertical gain is 598m from the Les Gets Village.
Hike to Morzine
From the top of the red bubble there is a short hike to the top of the Pleney lift which can be caught down to Morzine, where the outdoor swimming pool can be enjoyed all on the Multipass.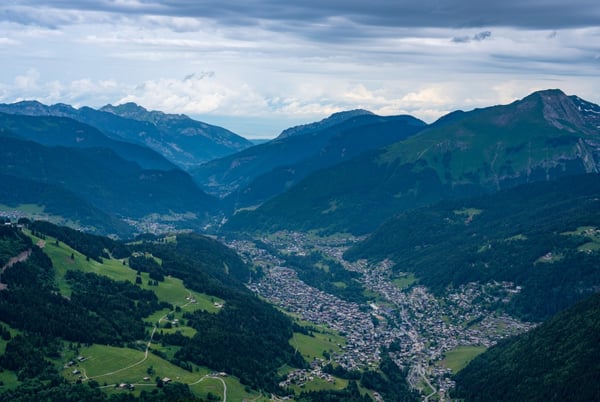 Three summits of Morzine - for experienced hikers.
Morzine has is in the valley of three stunning mountains, Nantaux, Rassachaux and Nyon each hike is between 600 and 1100m vertical, all with an amazing sence of achievement and amazing views. A must do for the avid hiker, in September there is a local event doing all three in one day.
Roc D'Enfer
This is for the more experienced alpine hiker, along a ridge comparable of striding edge, scrambling section and a long hike to and from the base, located behind Mont Chery in Les Gets , and can be seen from the Chavanne side, looking very enticing. No planned use of ropes but a high level of fitness required, an early start and one full day needed.
This picture is taken from part way down Point de Nyon, of Morzine.