Bike Academy - MTB School - Les Gets - Lessons and rental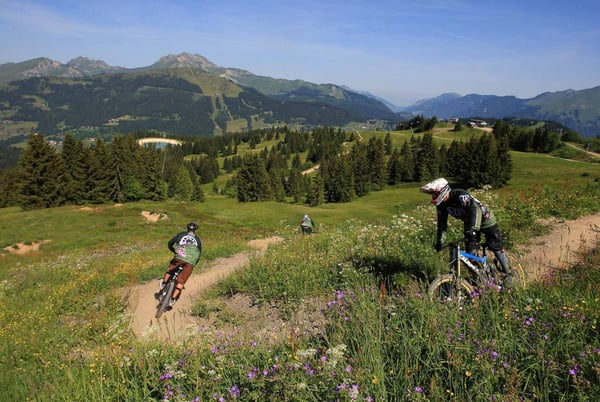 Bike academy is a group of 10 instructors, all able to show your family the best Mountain Bike tour around our resorts of Morzine and Les Gets.
You discuss what you would like to do, and your skill levels, and then decide where to go. You can also book your bike with them.
You can have private lessons or attend group lessons, the school also offers electric mountain bike lessons:
Private Lessons
Children can attend classes from the age of 4. The school offers private bike classes to maximize their progress. This class will teach the child (and the adults) how to handle his bike (basic notions) on stable ground (closed and secure environment).
Bike Academy instructors not only know the region perfectly but also have technical skills up to "World Cup" level . They can therefore fully cater for your beginner to expert level classes requests, daily from late May to early October.
For good progress, a minimum of 2 hours training for downhill and 3 hours for enduro is strongly advised.
Group Lessons:
Biker 1:
This level introduces occasional riders to MTB practices who discover downhill MTB in the mountains. The routes are easy and the slopes gentle. Real introduction to downhill MTB, this type of class can be taken from the age of 10 depending on the child's level.
Biker 2:
Having already practiced downhill MTB, the biker should be able to understand the blue and red runs. To join this class, the biker is supposed to have handling techniques like negotiating bends (raised, flat, tilted), know how make crossings and jumps (pitch, bunny up …), paths, support and unweighting, braking.This class can be taken from the age of 12, if the above mentioned techniques are mastered.
Biker 3:
Advanced downhill MTB class, the biker must be a regular amateur rider, experienced and able to run at high speed without endangering himself. He must be able to understand the blue or red runs.
This class can be taken from the age of 12, if the above mentioned techniques are mastered.
You must openly advise us of your MTB level so as to assure you do not run into difficulties during the session.
Price : freeride/downhill MTB + protection (knee, shin, back, shoulders, elbows, full-face helmet) + RM package is :
Biker 1 : 39,50 euros per half day
Biker 2 and 3 : 85 euros per half day
Electric Mountain Bike Lessons
We do special electric bikes lessons : During a two-hour session, you will enjoy this new sport where "pleasure" is not necessarily synonymous with "descending".
On suitable paths, with your electric mountain bike, the distances are shorter, with the ribs relaxed, the heart and thighs are not overworked and pleasure is enhanced through new routes that have become available thanks to the VAE. Price is 49 euros rental of Electric mountain bike included.