Why Driving is a great way to get to Les Gets ?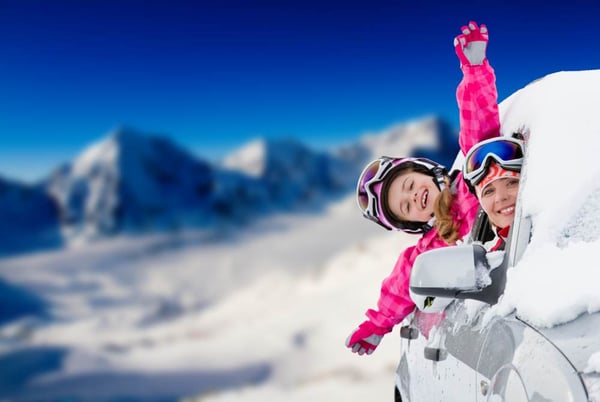 When you drive to Les Gets, you don't have to deal with the frustration of flight delays, congested airports or the stress of getting to the airport on time. You can also take many more things with you, without having to pack so carefully and you can also bring back some of those wonderful foods and wines you can only find in France.
Driving from Calais to Les Gets is 537 miles / 865 kms, and a good estimate of the cost for the return journey (including the tolls) is 400GBP (450€) for the vehicle, which is a huge saving on 8 or even 4 people flying. The total journey is around 12 hours including breaks ( just under 8 hours with no breaks) so you can decide to do it in one go or take it easy and have a few stops.
Driving is so much safer from a Covid viewpoint, and you have the added bonus of bringing whatever you want and can also pick up some of your favourite French treats for the return journey.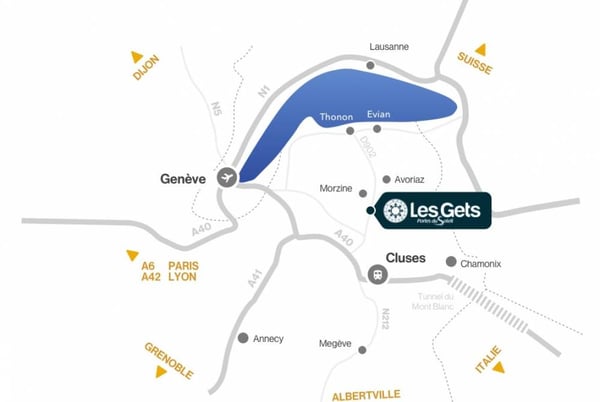 The road to follow
This is the shortest way from Calais to Les Gets :
- Motorway A26 from Calais to Troyes
- Motorway A/A31 from Troyes to Dijon
- Motorway A31/39 from Dijon to Bourg-en-Bresse
- Motorway A40 from Bourg en Bresse to Cluses
- Cluses you go out of the Motorways and will follow the indication Taninges/LesGets.
- Arrived to Taninges, continue to follow the indication Les Gets.
- When you arrive in Les Gets, please follow the indication of your accommodation manual with the address on it, a member of our team will welcome you directly to your accommodation.
Motorways in France
The motorways are fast and generally free of traffic jams. French motorways are very different from those in the UK. Firstly, you need to pay when you go through each toll, you can use any credit or debit card (but not American Express) to pay. The simplest way to pay is to use a touch-enabled card. If you want to go even faster, you can avoid stopping at the tolls, and buy a tag – you fix this to your windscreen and as you approach the tolls, it is sensed and the barrier will open automatically, details are at: https://www.emovis-tag.co.uk
Unlike in UK, where it's very common for a driver to sit in the outside of midde lane at 65 miles an hour oblivious to the huge traffic jam behind and the frustration caused to other drivers and emergency services having to cautiously undertake them to pass. In France on a french motorways, even if they are very busy, the road will move very fast and freely. The outside lane is used only to overtake and drivers then quickly get back into the inside lane. This means that traffic jams are rare in France and they are must faster and easier to drive, however, it is important to comply with the French way of driving.. A journey on the the road between Calais and 30 minutes from Les Gets will be a comfortable and fast moving trip.
Moreover, you can stop and enjoy a lot of services stations all along the motorways to take a break. Some service stations have a good restaurant, some just a cafe, but is it important to take a break every two hours.
Split your journey easily
Many people like to set off on the Friday and stay overnight in a place around 6/7 hours from the ferryport/EuroTunnell to split the journey. For example, cities like Reims, Troyes. With an early start from these destinations on the Saturday morning, you can arrive in Les Gets well before lunchtime and use our bootroom at Hastings to get changed and head out skiing. If you order your passes from us, they will be waiting in the office for you. Also, Ski Mobile, our partner can be ready with your equipment and get you suited and booted in no time.
Troyes is a particular favorite, being a medieval city where you can stay in a room dating back 500 years.
Some driving advice for a safe journey
Stop every 2 hours or so. Everyone gets out of the car to relax, stretch their legs, and drink water. It's also time to change drivers if you can. In that way, you can stay alert while driving long journeys and not be tired for your ski holidays coming.
Driving in France, you need to have the following equipment in your vehicle;
Warning Triangle
Reflective Safety Jacket
Breathalyser (Technically the law requires you to carry one, but fines are not currently being imposed.)
Driving licence (Currently an International Driving Licence is not required, this may also change.)
Insurance and ownership documents
Passport (which you will also need for crossing the channel!)
Snow chains*

From 28 September 2021, you need a UK sticker instead of a GB sticker.

If your number plate includes the UK identifier with the Union flag (also known as the Union Jack), you do not need a UK sticker.

However, you will need to display a UK sticker clearly on the rear of your vehicle if your number plate has any of the following:

a GB identifier with the Union flag
a Euro symbol
a national flag of England, Scotland or Wales
numbers and letters only – no flag or identifier
*French police can check your equipment around 15/30 kilometers from Les Gets on important snowy days and ask you to add the chains on your tyres to let you access to the resort. If you don't have this equipment, they would not allow you to continue the journey for your safety.
We wish you a pleasant journey to Les Gets and look forward to welcoming you in our lovely resort.