The lake and Wit Bit Water Park - Family activities
Many families spend all day by the lake...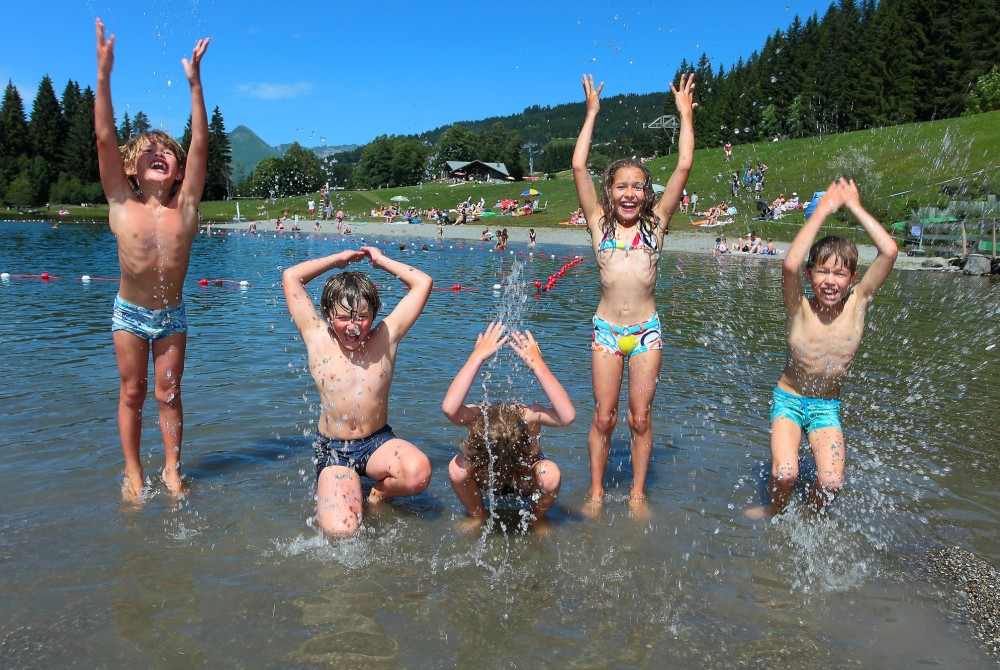 The lake now has lake 'Wi Bit' inflatable modules - these were new last year ( 2017) and were exceptionally popular ( see below).
Additionally, there is a sand pit, games organised by the lake, the adventure park is at the back of the lake area and parents can relax in the knowledge that their children are being watched by safety officers.
Wi-Bit
This new innovation offers unlimited fun in the swimming lake by the school, suitable for both adults and children.
This area, called: "Wibit park des Gets", offers a water play area of 1200m2 with 30 modules including slides, a water trampoline and even a human catapult. From 6-years old upwards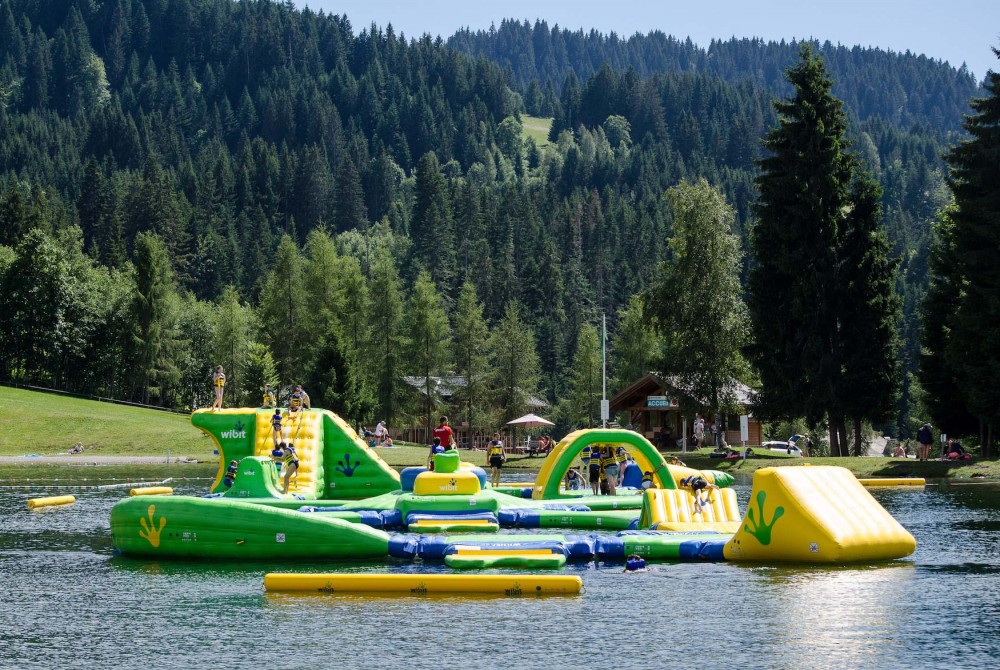 Adventure Park
Great fun for Children and Adults - and very safe.
Climb to the tree tops, look down on the landscape below, set yourself challenges and test your limits.
Try the zip wires, giant wheels, bridges and beams. You'll start to think you're Tarzan! ...7 routes and over 86 games, choose your challenge from four levels of difficulty, from easy to expert.
Info and prices: www.aventure-parc.fr/les-gets
Botanical Garden in Les Gets ( new 2017)
Pierre Delavay, born in Les Gets, was a famous botanist and missionary, who died in 1985. He spent many years as one of the very first explorers in the Yunnan area of China and bought some 200,000 specimens back to France and he described over 1500 new species. He continued his investigation until 1888 when he contracted bubonic plague. A number of plants were named after him, including Delavay's Fir Abies delavayi, Delavay's Magnolia Magnolia delavayi and Delavay's Peony Paeonia delavayi.
In homage to his work and findings, a botanical garden will be created this summer in the idyllic natural environment of the Ecoles Lake. Some of the species he discovered will be cultivated and may well be unfamiliar. An interesting and educational voyage of the senses, perfect for a family outing...