Les Gets Bike School - Individual/groups lessons - All level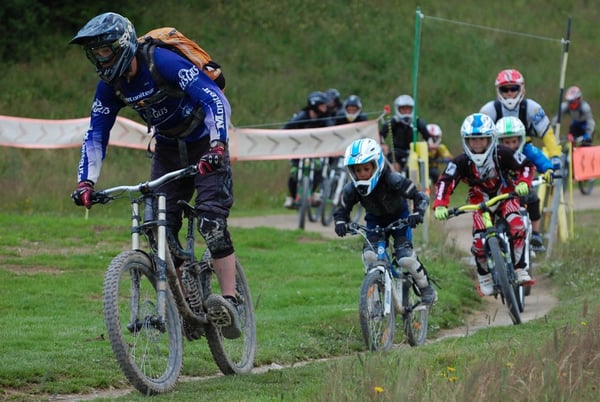 Les Gets Bike School specialises in MTB instruction for all abilities, from toddlers who are just learning to ride a bicycle to expert racers. Families can book an instructor to teach them the basics of riding in the mountains. We help people learn to ride properly and safely, increasing their enjoyment and make riding safe for all the family. Learn as a family or join a group (2-8 people) with riders of a similar ability.
Traditionally the bulk of our clients were teenagers interested in downhill mountain biking, but in recent years we've found that people of all ages and genders have started taking up the sport. Each week throughout July and August we have groups of riders split into different ability levels. Our clients get to enjoy the thrills of downhill mountain biking in a safe manner coached by our instructors, helping them to improve confidence and develop their riding talents.
Les Gets is a family resort for biking, but for those who haven't biked there before it can be intimidating. The green downhill track is steep in sections, so having an instructor guide you for the first day is advisable. For complete beginners Les Gets Bike School trains their clients on a combination of fire roads, fields and the green run, creating a safe and enjoyable route, where all the necessary skills can be learned to be a safe, independant rider.
For more experienced riders there are many levels of tracks. Just like in the winter, the trails are graded green (being the easiest), blue, red and black (the most difficult). Our high-level instructors are able to coach even the most experienced riders in improving their technique. Whether it's learning to drift, jump or preparing for a race... we can help.
https://www.lesgetsbikeschool.com/?lang=en