Snowshoeing and Hiking in the Snow in Les Gets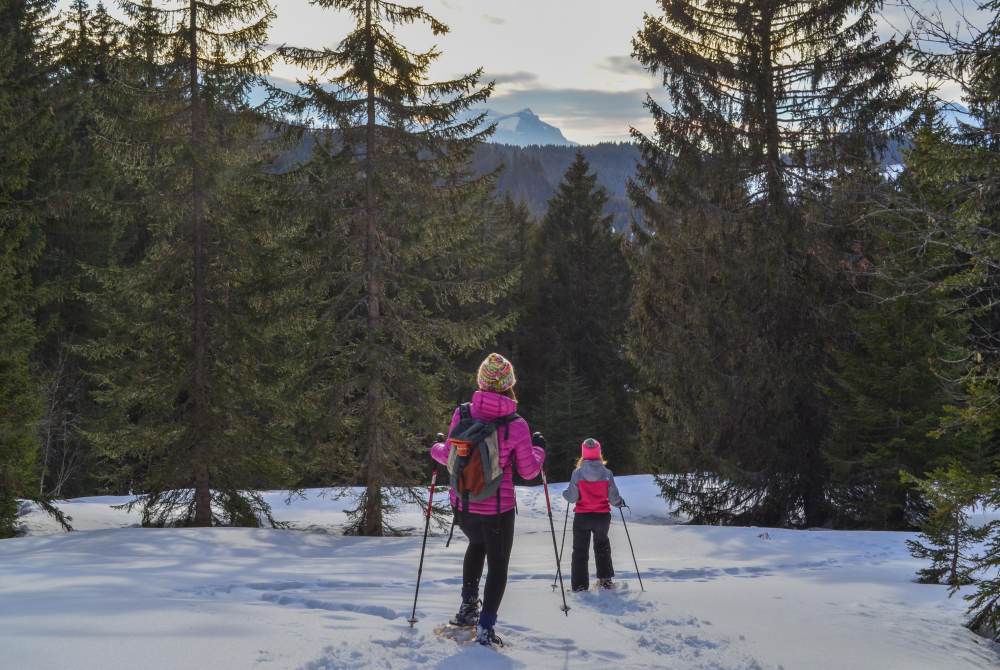 Skiing is very popular in Les Gets during the winter, but visitors soon discover the resort has much more to offer. Snowshoeing, for instance, is one of our favourite ways to explore the mountain and it can be enjoyed all summer long. Snowshoeing is a relaxing and fun activity that the entire family will enjoy, and it's perfect for a true immersion in nature. There are a number of spectacular routes in Les Gets located on different sides of the mountains...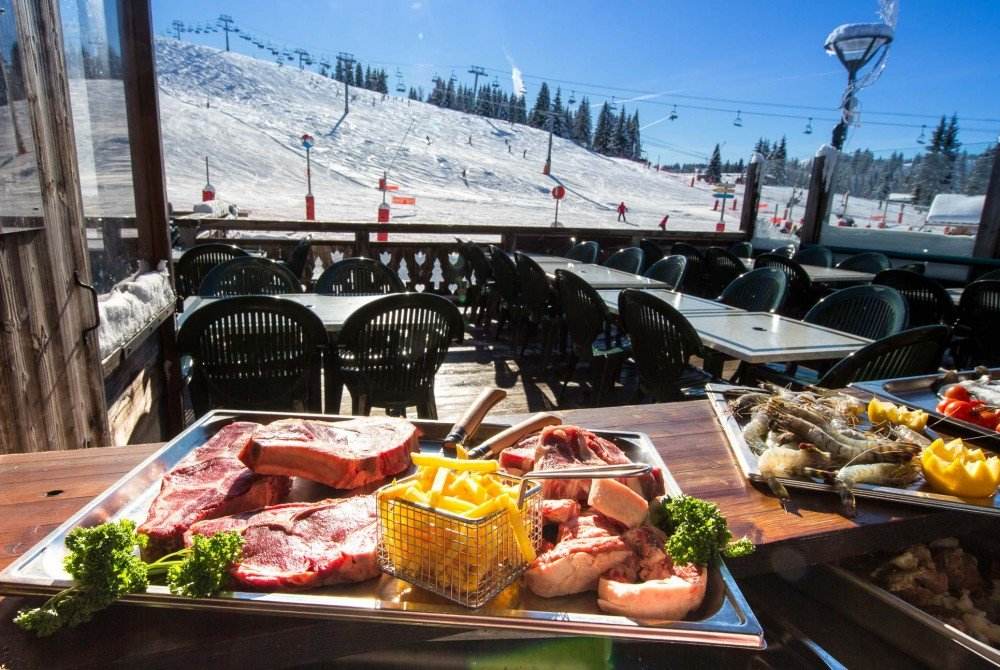 Why snowshoeing is so special in Les Gets and where can you go?
With its extensive network of marked routes, easy access for all ages, and the possibility of hiring a professional guide who knows the terrain and the best spots for an amazing excursion, the resort is known for its incredible snowshoeing experience.
Les Gets is located in a col between two beautiful mountain ranges: Les Chavannes side and Mont-Chéry side. It is possible to snowshoe on each of these areas and even join further locations nearby, such as Valley de la Manche in Morzine or Joux-Plane Lake in Samoëns from the Chavannes side and Col de l'Encrenaz in La Côte d'Arbroz located behind Mont-Chéry. For a longer day, you can even access the Col du Ratti, a beautiful spot next to Roc d'Enfer. As you stand on the summit, you will have the possibility to see some chamois in their natural habitat and observe the impressive views of Mont-Blanc, Morzine, Mont-Chéry's north side, and much more.

There are a number of places around Les Gets where snowshoeing is particularly popular: Mont-Caly, Nauchets platform, Lassarre route, the golf loop, the plateau de Loëx, the Mont-Chéry loop... there are ample other routes prepared every winter by the resort staff.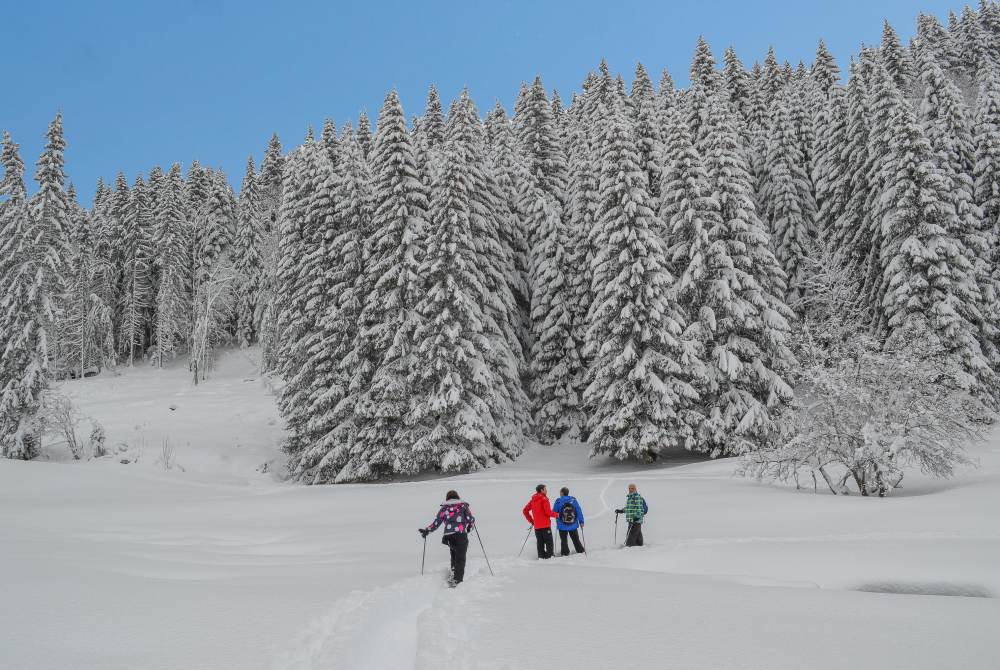 Where to eat during a snowshoeing walk in Les Gets?
Along these scenic snowshoeing routes are restaurants that offer incredible snacks or wonderful meals for your group. On the Chavannes side, we recommend La Croix Blanche at the top of the Chavannes gondola, a perfect location after your walk to Nauchets platform or the golf loop. The restaurant Les Chevrelles is an excellent choice if you explore the Mont-Chéry side, for example at Mont-Caly. For more information about the best restaurant along your snowshoeing route, contact our team!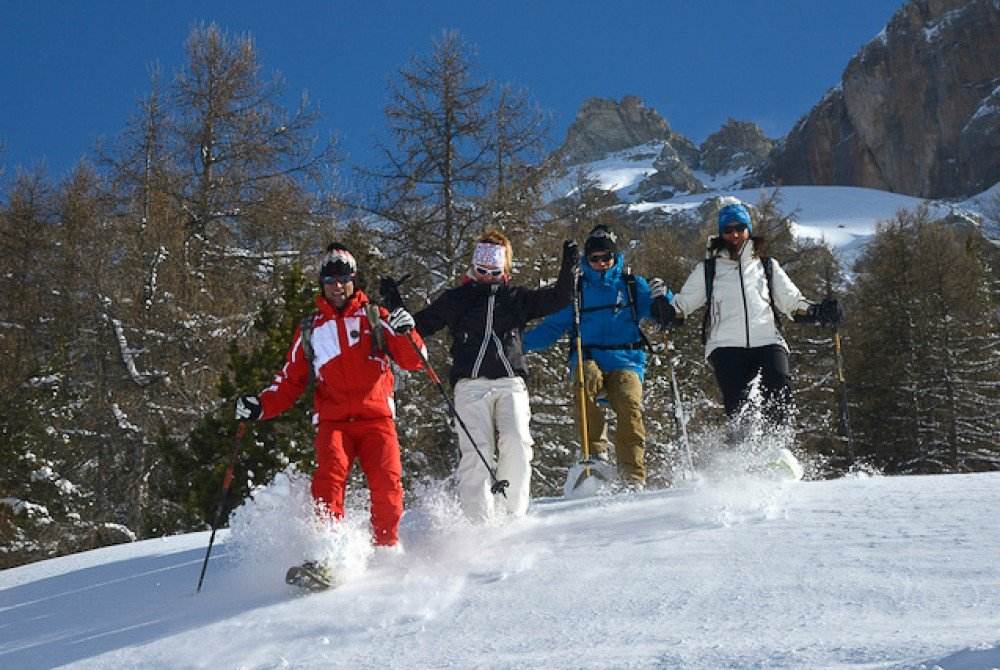 Why we love snowshoeing in Les Gets and what are the benefits?
The sport of snowshoeing is yet another way to get in touch with nature while exploring the mountains. It's the calmness, the authenticity, the encounter with wild animals, the crackling of the snow under your snowshoes, the clean air you breathe, and of course the views in the fresh powder that make a snowshoeing day a success. Snowshoeing is perfect for people who like to walk. Adapted to everyone, relaxing for both the mind and the body, snowshoeing is a great activity to enjoy the beauty of the mountains, do some exercise, and recharge your batteries at the same time!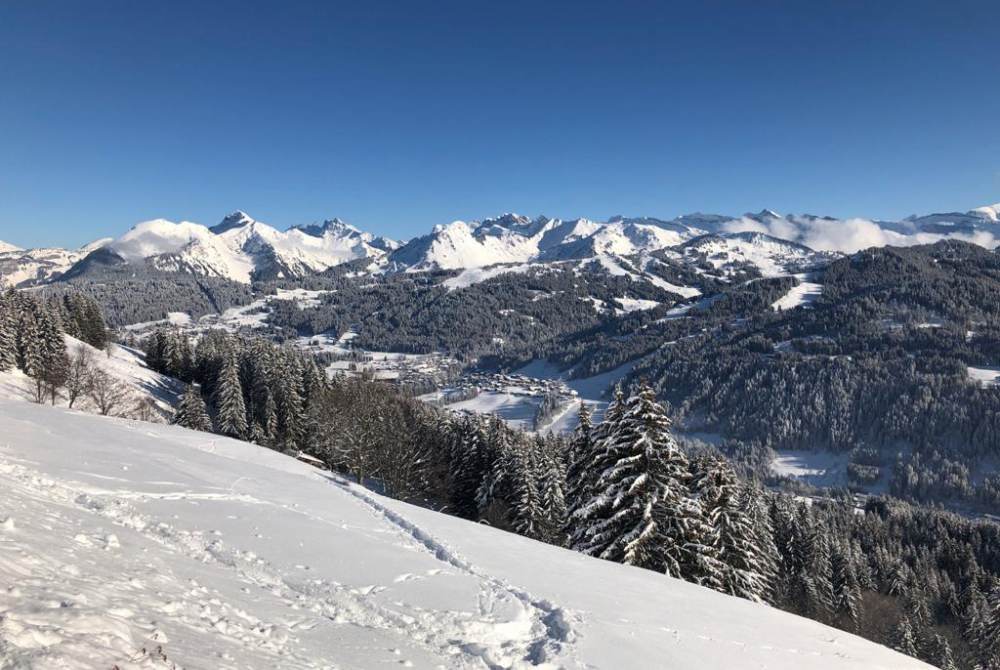 The best guides in Les Gets for snowshoeing
We recommend a number of excellent guides for snowshoeing days in Les Gets. They can design a route depending on your group's age, level of experience, and fitness level, as well as what you're looking for during the snowshoe hike. One of our favourite things about organising a guide is that they can take you off-piste to hidden spots so you can immerse yourself in the valley's secrets.
A snowshoeing adventure allows you to lose yourself in a forest, sifting through deep fresh powder to feel the connection with nature in complete safety! For your equipment, all the shops in Les Gets offer rentals for the day, half-day, or a few hours. If you feel like snowshoeing is the best activity for you, you can also rent equipment for the duration of your stay.
Do you want to know more about snowshoeing in Les Gets? Do you want to plan your next snowshoeing hike?
Check out our recommended snowshoeing trails for a few hours, a half-day, or a whole day. Whatever your level of experience, you will find your ideal snowshoeing route in Les Gets. As a team, we are completely familiar with the area, due to everyone living here year-round. On arrival or during your stay, our staff members will be happy to recommend the best snowshoeing routes in Les Gets for you!
Photos crédit: Tourist Office - Marion Allain - Chalets 1066