British school - BASS - Ski lessons in Les Gets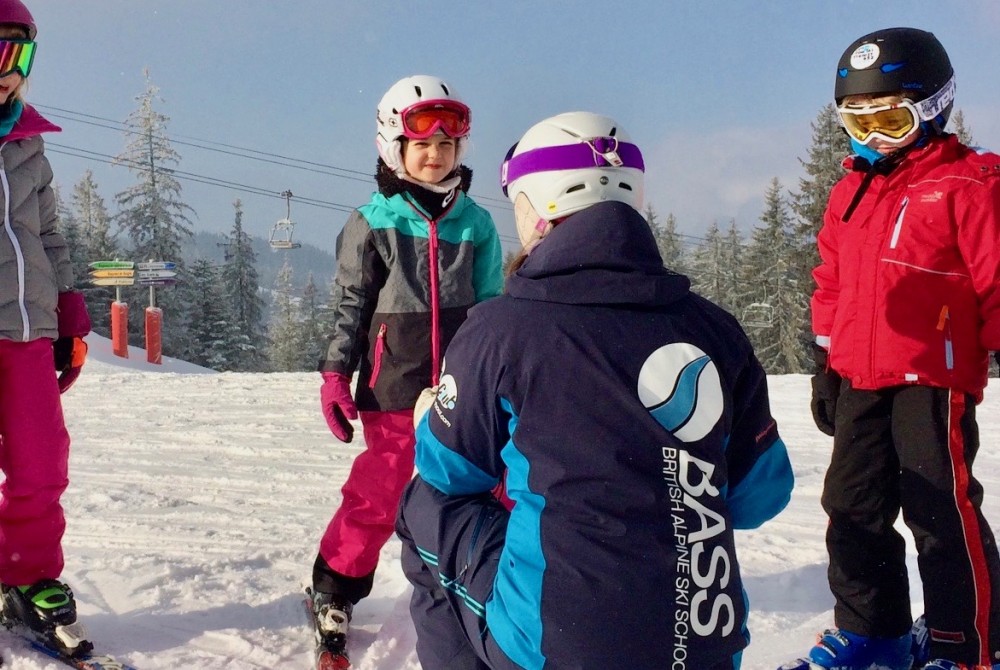 BASS is the original British ski school founded in 1999. It was created to provide a better learning experience for every individual.
We understand that each person's experience of snowsports is unique and that learning is a lifelong opportunity which should be enjoyable and inspiring.
None of our lessons run to a fixed script. The BASS team take the time to listen to you, all the way from first enquiry to the very last lesson, to make sure that skiing with BASS is the best holiday you ever had.
Our friendly office team will personally recommend the right lessons for you whether you reach us by phone, email, or via the website enquiry link.
Junior Lessons
Not just for grown-ups, we understand that your kids are the most precious things in your world so why leave them with anyone else?
We have a range of lessons for juniors, adapted for the different learning needs of each age group.
The Mini Program is specially designed to care for children from 4 - 7 yrs old. Groups run with a maximum of four children to create the safest possible learning environment for our youngest skiers.
Children from 8 yrs old can join the Classic Junior Program for all levels and abilities to learn through exploration and adventure with no more than six children per group.
Children in these age groups learn best with constant encouragement and reassurance, so these courses run for five consecutive days. Sessions are two hours long, as this is the optimum learning duration for youngsters, leaving plenty of time to ski as a family during the day.
The Teen Freeride Program creates a different learning environment for older children and teenagers, with 6 skiers maximum per group.
Older children, who are confident skiers, really benefit from practise time between sessions and the longer lesson duration allows them to go on adventures, explore and have fun, while learning lots. Sessions are on alternate days and are 2.5 or 3 hour duration.
Oh, and we understand that not all teenagers are 'morning people' so these lessons are in the afternoons.
Adult Lessons
Our Classic Introductory courses are designed to get you started and find your feet. With groups of 6 skiers, these courses run from Monday to Thursday to give you freedom to explore towards the end of the week.
The FLYING START is for absolute beginners and NEXT STEP for those who already have a little experience on skis.
Premium Adult Developing courses in groups of no more than 4 skiers. All levels from blue run skiers onwards. These courses run on Monday, Tuesday and Thursday afternoons.
Weekend / Short Break courses offer a taste of our premium Developing courses run on Friday & Saturdays, with groups of 4 skiers maximum.
Personal Development Camps are available throughout the season tailored to specific needs in groups of 5 skiers maximum. 4 hours per day over 3 consecutive days.
CONTROL & CONFIDENCE to help blue run skiers build confidence and feel in total control of their skis.
FLUENCY & EASE for skiers confident on most terrain to ski with ease and efficiency, learn how to flow rather than fight your way down the mountain.
BUMPS CLINIC is for skiers wanting to develop the skills needed to ski bumps with flow and control.
Private Lessons are the ultimate flexible option for skiers, snowboarder, ski-touring and telemarking. Invite a friend to join you with our flat rate for 1 or 3 people.
Private lessons can be particularly rewarding if you enjoy a more gentle pace of learning or specifically want to focus on confidence and control.
http://www.britishskischool.com/BASS_Resorts/Morzine