14 November 2020
Why Les Gets is the perfect place for relaxation
In this article, we will see why the resort of Les Gets is an ideal holiday destination for a relaxing stay. The activities, the amazing landscapes, the traditional village, the quality of the food and the kindness of the inhabitants, everything leads to a delightful stay.
Expressions like well-being, detox, take care of yourself, recharge the batteries, etc... are now completely integrated into our language and are not just fashionable, they have become part of our everyday life. We search constantly for a balance between body and mind. This year, more than ever, we all understand the importance of preparing ourselves to stay healthy and avoid any risk of being ill. To me, the mountains have always been an ideal place for this. Far from the hustle and bustle of the cities, in an incredible setting, the air is pure and the sweetness of life is felt all around.
As autumn arrives, our bodies need to strengthen and prepare themselves to face winter, cold, humidity, diseases and less sunshine duration. Vitamins, physical preparation, rest, fasting, diet,… many methods exist today to preserve our immune system while waiting for the return of spring. Holidays in the mountains are also an excellent break to get some fresh air.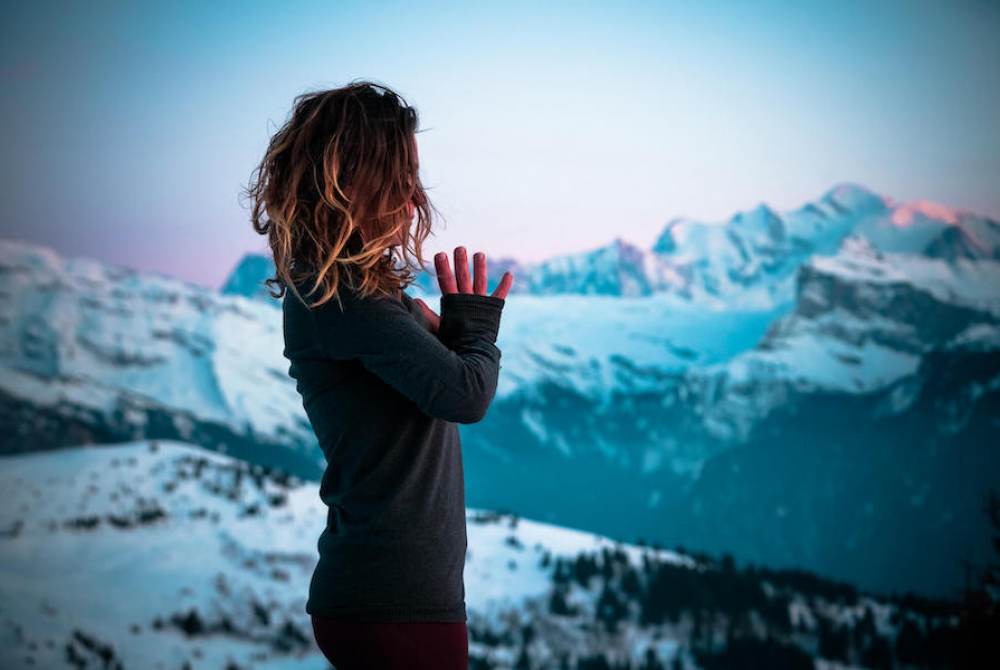 Energise yourself
The resort of Les Gets, thanks to its ideal snow cover, offers gentle activities throughout the season. Snowshoe, sledge dog riding or hiking on the prepared footpaths will take you on beautiful routes through where you can encounter local wildlife, the trees and breathtaking landscapes. Blend into the magical setting of Les Gets, breathe deeply, let yourself be amazed by the glittering nature and its beautiful white coat... a real meditation in the middle of nature just for you.
For the more dynamic, ski touring is a healthy option to go even further, to magnificent summits and discover amazing landscapes. A beautiful off-piste ascent, physical exercise and pure joy when you let the first traces on the fresh snow on the way down... simple happiness is there, can you feel it ?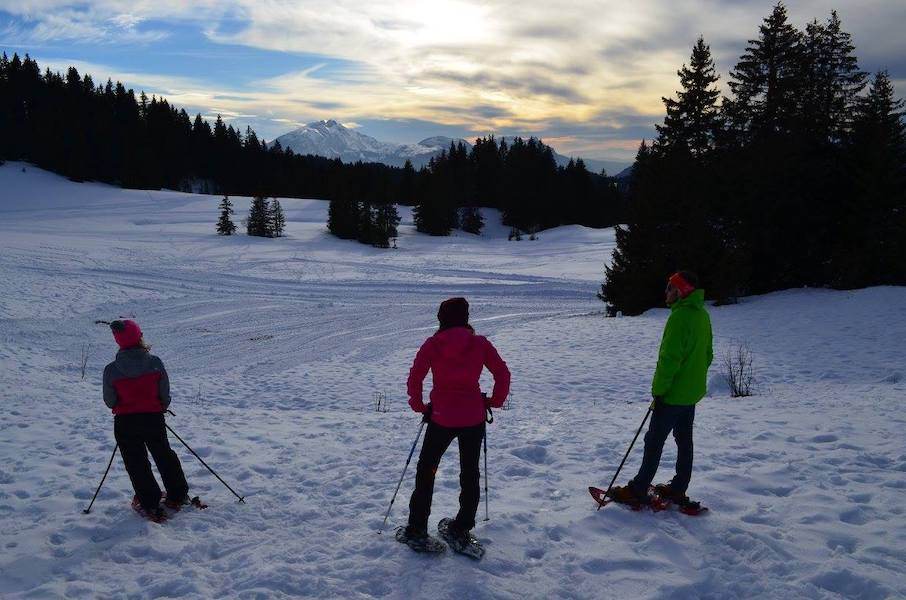 Relax at Les Sources du Chéry, beautiful Spa in Les Gets
Later in the day, take a moment just for you at Les Sources du Chéry, the new spa in Les Gets which opened its doors in the winter of 2019-2020. Everything you need to relax your muscles after a day on the slopes or after a walk in the forest: whirlpools, sauna, hammam, sensory shower, jacuzzis, ice baths, light therapy, hydromassage jets... An incredible experience that you can complete with their excellent range of massages and treatments. We are partners with the Spa, if you book your accommodation with Chalets 1066, we offer you up to 40% discount on your entrance ticket.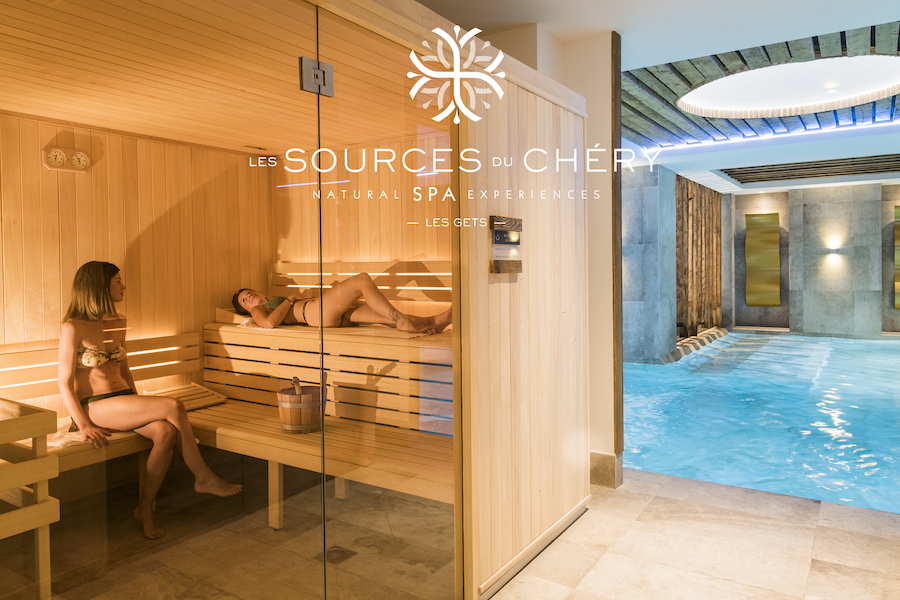 Stretch and find your balance in the mountains
If you enjoy Yoga and other activities such as Pilates or meditation, don't hesitate to sign up for the classes at all levels offered by many experienced teachers in the resort of Les Gets. Sessions are sometimes organised outdoors in front of the mountains, providing an original and relaxing experience with beautiful white landscapes. A special week is even dedicated to well-being in Les Gets during the season with themed workshops, personal development, individual treatments, Yoga classes to help you get to know yourself in a dream setting.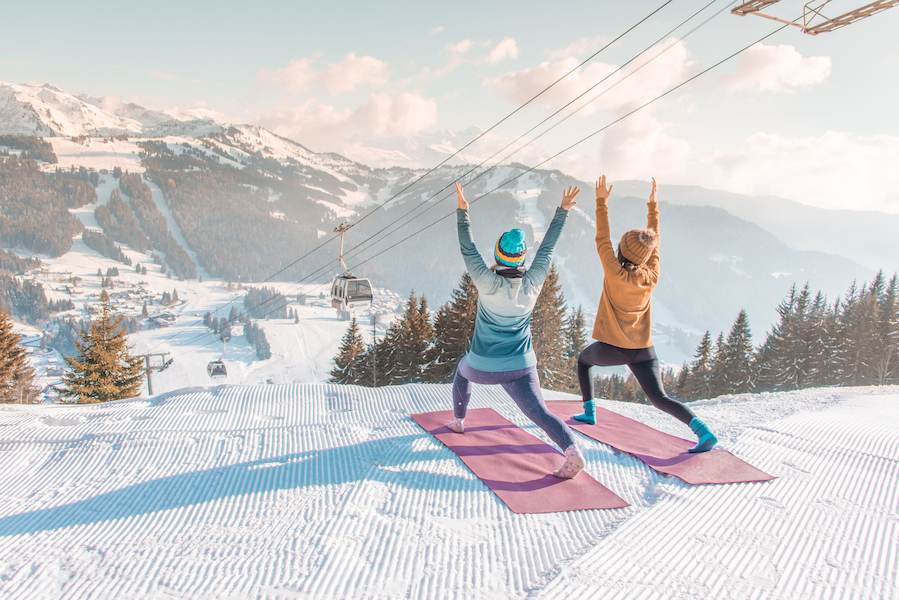 Enchanting life in the village
The village itself will draw you in with its warm atmosphere and feeling of history. Stroll through the busy streets with the small shops run by the local residents, drink a delicious hot chocolate on the terrace facing the Mont-Blanc at Mont-Caly, skate on the ice rink, visit the traditional market every Thursday morning to test and buy on local produce (cheeses, sausages, fresh products, honey...), or be transported by the magical world of Alta Lumina, the new enchanted multi-sensory walk in the heart of the forest... a whole day programme where you can truly live in the present moment.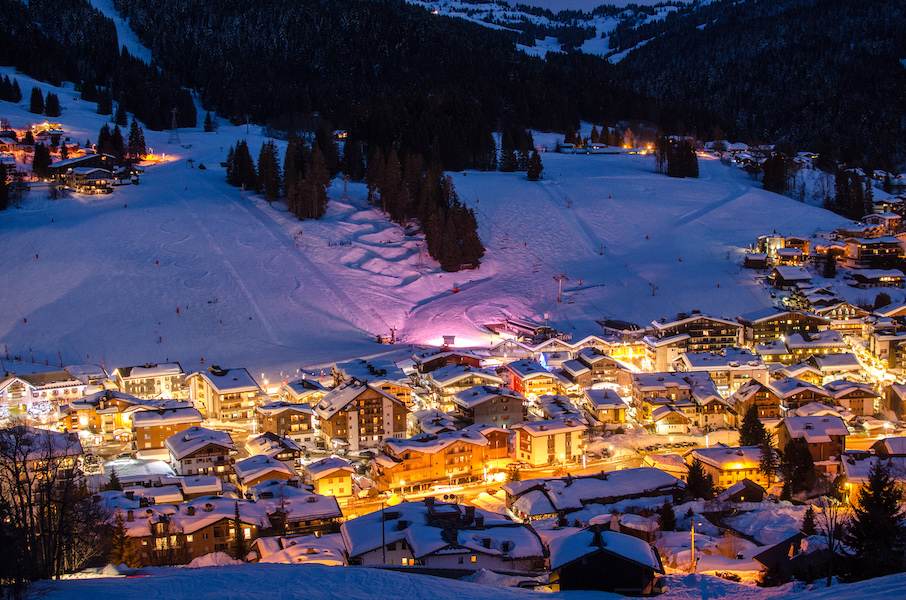 Delicious healthy food
It's now time to conclude on a gourmet note, because eating well is important for your health. Les Gets has enough to delight epicureans with its numerous restaurants spread throughout the resort. All-day long you can treat yourself: fresh bread and pastries in the morning, healthy vegetarian lunch in town and a fragrant pancake for a late afternoon snack. In the evening, enjoy the traditional mountain food and gastronomic dishes in the Gêtois restaurants. Our resort is renowned for serving fresh, local food with excellent value for money. If you prefer to eat in your chalet, this is possible with our bread and pastry delivery service in the morning, as well as our catering options: food delivery, chefs at home, wine delivery, etc...
After all these wonderful experiences and reconnecting with yourself, you'll be eager to come back to Les Gets for another relaxing break. Treat yourself !
Written by Marion, passionate about wellness and well-being
Graduated Yoga Teacher 200H
Photo Credit : Marion and Tourist Office of Les Gets : ©Keno/Les Gets Tourisme / ©Checkoutsam/LesGets Tourisme