What Makes a Good Ski School & why Les Gets has the best ski schools
21 October 2019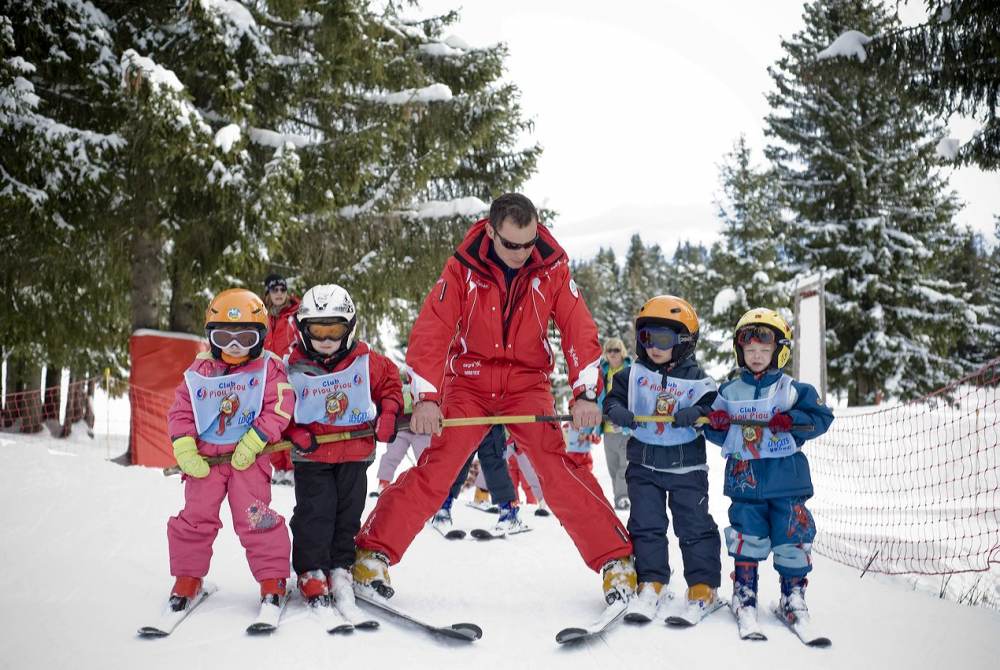 Selecting a ski school is complex, there are many factors to consider, these include not only the qualifications of the instructor, but also the type of teaching available, group sizes, the terrain in the resort and group size.
This article aims to give a guide to selecting a ski school and type of lesson best matched to your needs – hence helping your skiing to advance. A good instructor needs:
- to have a broad range of skills, not only being very good at skiing.
- to be positive and encouraging.
- to have the ability to teach any age, any ability, different personalities and learning types (for example - some people learn in an academic way and need to understand the technicalities, others learn by experiencing the right feeling when skiing and find an academic explanation difficult and the good instructor needs to adapt to each client's style).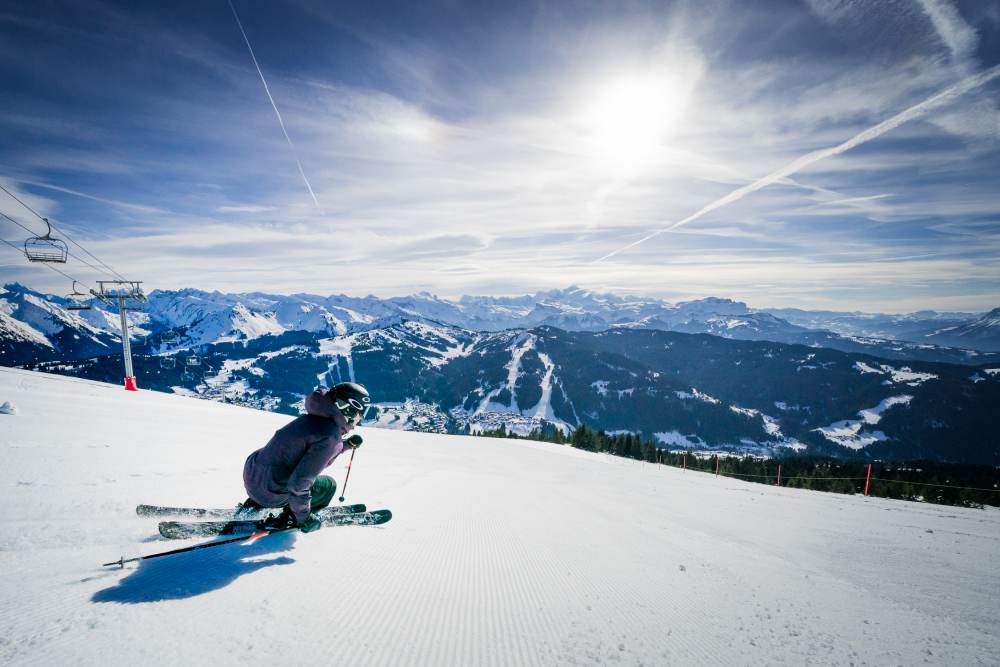 The System for Training Ski Instructors
Under the British system, there are 4 levels of qualifications, BASI Level 1, 2, 3 and 4:
Level 1 – This qualifies an instructor to teach in a confined space such as a snow dome or dry ski slope and is focussed on teaching beginners.
Level 2 – Aimed at qualifying people to be able to teach beginners/intermediates in a mountain environment. The pass rate used to be very high but is now around 50%.
Level 3 – this is the ISIA (International Snow Sports Instructor Association) qualification and is recognised around the world. Before taking this exam, the instructor needs to have completed 200 hours teaching, the modules to qualify include: Off piste guiding, Race coaching, Teaching ( this exam takes a whole week), Technical Assessment ( this exam takes a whole week), A second discipline at level 1 ( for example disabled teaching), A language test in the local language.
Level 4 – those who qualify are now also given a degree from the University of Edinburgh, not only do instructors have to pass the famous Euro Test, but also an exceptionally difficult week of technical tests which even many professional race skiers fail, additionally, a one week test of teaching ability encompassing: understanding different learning styles, the ability to quickly spot what a student needs to do to improve and to put this over in a way appropriate to his/her learning style and bio mechanics. Typically it will take 10 years to qualify and the percentage numbers passing each year is usually less than 10% due to the very high standards ( and typically all students will train hard all season).
One should be aware that the standard of all these qualifications has increased over the years. For example, there was a week long Level 4 Technical exam at Hintertux at the end of the ski season in 2019 where 24 people attended the exam, a number of whom were professional ski racers and in race teams, yet only one person passed.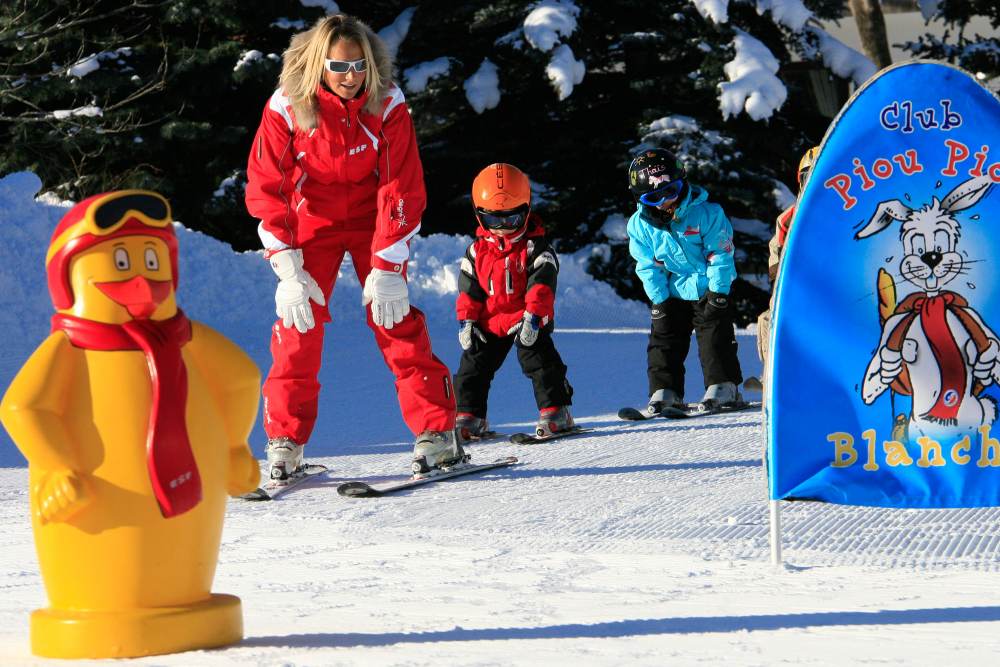 What qualifications are required across Europe and the rest of the world:
Each country has its own system for teaching ski instructing and each country has its own minimum requirements. Additionally BASI ( the UK Ski Instructor authority) has agreements to equivalent levels with each country across the world, this means that an instructor qualified with the British System can teach in other countries without having to take the qualifications of each country.
Switzerland: The Swiss system is similar to BASI, Ski Instructors are qualified to ISIA level and also have to take a one week qualification in the specifics of the Swiss system.
Italy: The Italian system is similar to the British System. To teach in Italy, BASI Level 4 is required. For those going through the Italian system, the main difference to the BASI system is that to start training, one has to pass the famous Euro Speed Test, so only a select few even start the process of training to be a ski instructor.
There is one exception to this, InterSki has a special agreement with the Italian Authorities so that instructors with BASI Level 2 can teach for a maximum of 4 weeks in Italy.
Austria: An equivalent of the BASI Level 2 system is needed, however, instructors often try to get higher qualifications (as then they are paid more)
Canada and USA: The standards are much lower than Europe, also, the salary is very low.
Japan/China: There is no Japanese system, however, they are turning to the BASI and Australian systems.
France: For a British person to teach in France, BASI Level 4 is required. An alternative which is available to those training through the French system, is to work as a trainee instructor ( or stagiere) linked to a French Ski School, the trainee must have passed the 'Test Technique' – which is a very advanced test of skiing ability, and then has 4 years to complete their training. Under the French system the trainee instructor is only allowed to attempt the Euro Test three times and if not successful in three attempts – must find a different career.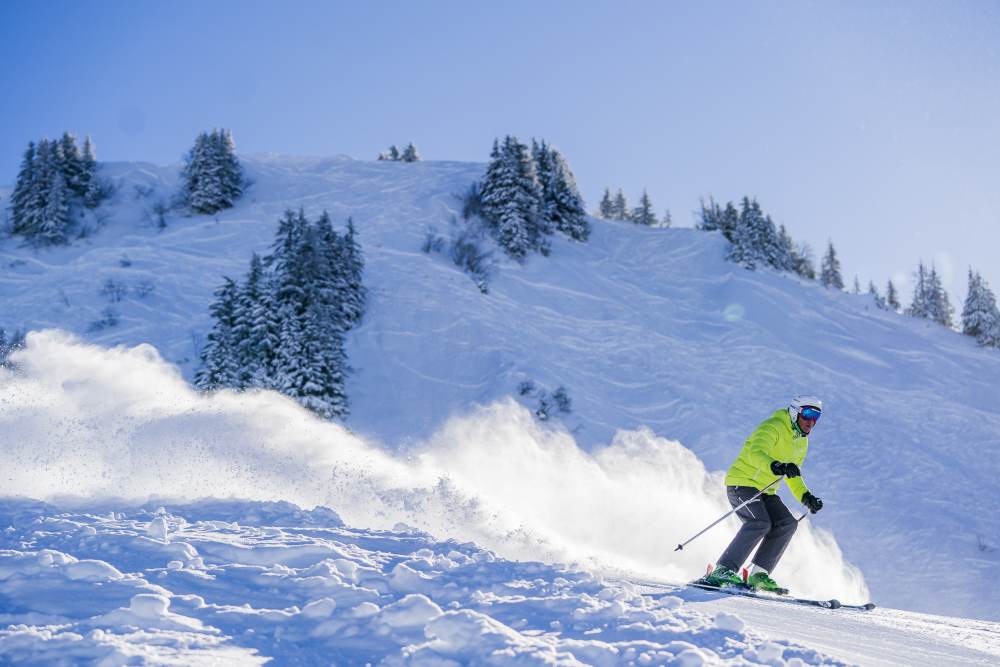 Why Choose France:
If you book a lesson in France, you are guaranteed to get an instructor with the world's highest level of qualifications who will take their teaching seriously, whereas in other countries you risk leaving your children in the hands of a gap year student.
A small or large Ski School in France:
Focussing on France, the biggest chain of ski schools is well known – ESF. There are however, many small ski schools where the instructors have something special to offer.
The large ski schools are able to offer a huge range of group lessons and also excellent facilities for small children. When choosing group lessons, it is always best to be in a group of similar ability and age and this is where the larger ski schools have a real advantage. Additionally, the larger ski schools generally have more facilities, for example, in Les Gets, ESF has an area designed specifically for small children to learn to ski from the age of 3.
On the other hand, there are some outstanding small ski schools. Some have instructors who have been teaching for many years, have considerable experience and a very strong reputation. Others are relatively new, however, for example, in one ski school, the Directors were previously in the GB Olympic team and they attract freshly qualified instructors with the knowledge of the latest techniques and it can be inspiring to be taught by one of these. One of the benefits of small ski schools is that group size is usually smaller and typically they give more personal attention to each client's needs.
What-ever you choose – you are assured of the world's highest standard of teaching in France.
Pistes:
Les Gets has, without question, the best learning terrain in Europe, this is because of the progression of slopes and the many green, blue and red slopes.
See the following blog on "why les gets is the best resort to learn to ski".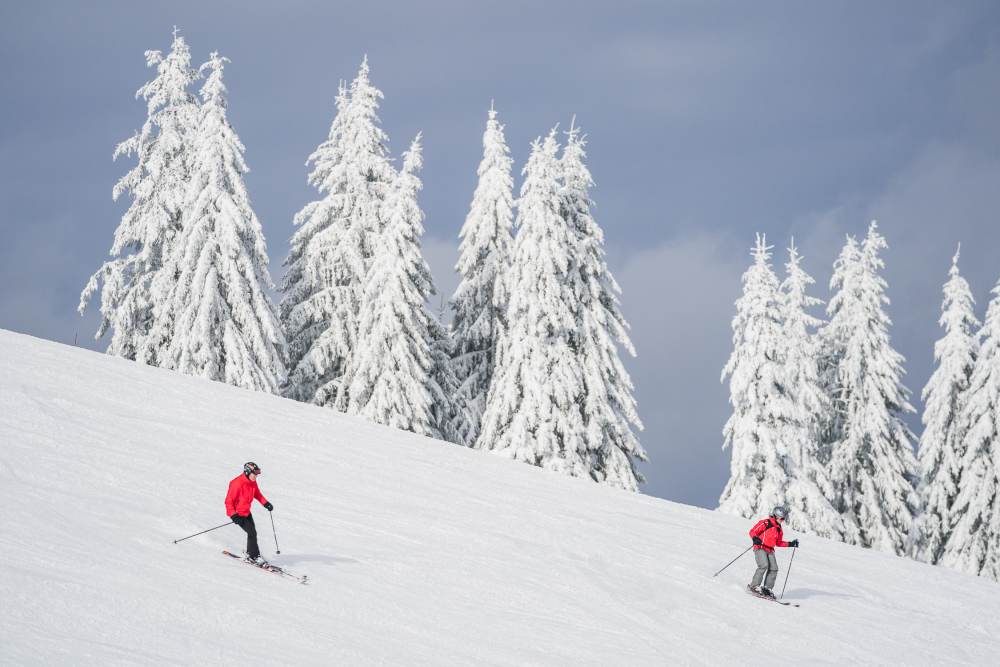 The Location of the Meeting Point:
On the face of it, this may seem minor, however, do consider the following:
- In Zermat, instructors meet clients at the bottom of the gondola which takes 45 minutes to get to the ski slopes, this is 45 minutes spent on a gondola at the start of the lesson!
- In Verbier, again instructors will meet at the bottom of the lifts and will travel for 25 minutes with the instructor to get to the slopes, beginners in Verbier have a more difficult job – they have to take a bus with the instructor which takes 45 minutes.
- In Les Gets, the ESF instructors' may meet you at their office, not on the slopes, and in these cases, it will take children 10 minutes to get to the lifts and then 10 to 15 minutes to get to the top.
- Small ski schools in Les Gets will meet their students either at the start of the 'magic carpet' or at the top of the red bubbles lift – saving a huge amount of time.
So – checking the meeting point and how long it will take to get to the start of the lesson on the slopes is important to understanding the value you will get.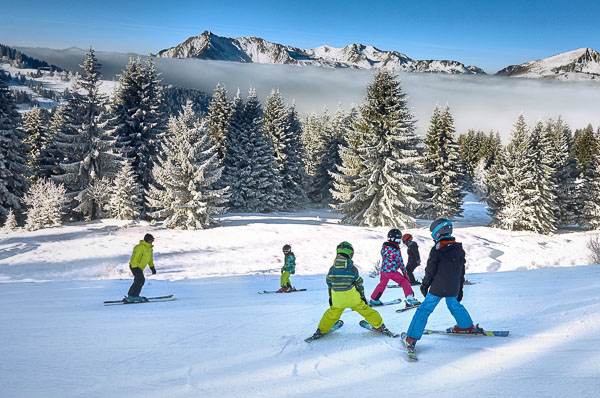 Les Gets offers the benefits of:
- The best learning terrain in Europe
- The worlds highest qualified ski instructors.
- A wide range of ski schools, small and large
- Short times from the meeting point to the start of the lesson.
The question then is what type of ski school to chose. Our suggestion is:
For small children – aged 3 to 5, ESF has excellent facilities which no other ski school has. Small ski schools also offer excellent personalised teaching.
For Children Group Lessons - ESF is the biggest ski school in Les Gets, so for their group lessons, they are able to engineer everyone to be of a similar level, however, the British Ski schools have a much smaller group size, and a softer approach to teaching and usually less lesson time is lost between the meeting points the slopes. If your child is very confident and boisterous, then ESF may be the best choice, if your child would prefer a bit more attention from the instructor then a British Ski school with a smaller group size might suit them better. 360 ski school, whilst being French, all their instructors speak good English and offers great lessons.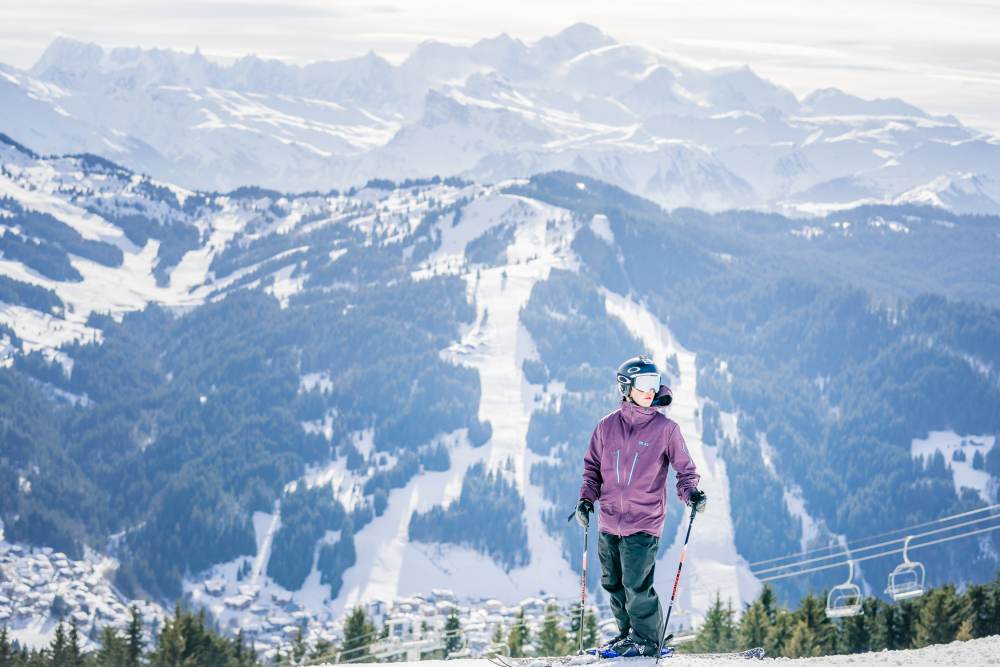 For Private lessons – there is a wide range of ski schools with excellent instructors, all qualified and experienced to the highest levels in the world. You can easily book a lesson with an instructor who is an ex professional athlete or ex professional coach where a skier of any level would benefit – no matter how good one is at extreme skiing. There are also many specialist teachers in different techniques such as: Telemark, Off Piste Ski Tour Guiding, Free Ride Skiing.
For example:
- If you see yourself as an extreme skier, you may be best booking a lesson with PDS, they have many ex professional racers and race coaches (James Bennett and Craig Robinson – both British professional ski racers, raced to 50 FIS points).
- If you would like to try cross country skiing, you could try Peak Snow Sports who have one of the only two British cross country instructors qualified to highest level.
- If you see yourself as an excellent snowboarder, ESF have the Olympic champion Deborah Anthoniaz and Adeline Baud-Mugnier amongst their instructors.
- If you are a family and want private lessons, all ski schools will have excellent instructors, LGS have a particularly good reputation. 360 also have a strong reputation.
What ever you chose, you can be confident that Les Gets not only has the world's best instructors, but also the best slopes both for beginners and intermediates to learn on.
Ben Nathan - ISIA qualified ski instructor
Pictures from Keno
A selection of our accommodation

10

5

4