09 August 2019
What to do around Les Gets - Water Skiing on Lac Leman
There are so many things to do when you come for a holiday in the gorgeous alpine village of Les Gets, it is hard to know where to start!
One thing not often mentioned is a day out on Lake Geneva (Lac Léman) water sking and wakeboarding. This is operated by a qualified British Waterski Instructor (who is also British monoski and watersking champion!). All equipment is supplied including wakeboard, ski, life jackets and transportation to and from the lake, all you need to bring is your swimming costume! This is great fun especially for beginners. Lake Geneva is approximately forty minutes drive from Les Gets, through the Gorge du Diable (devils ravine) down towards Evian.
You will arrive at the beautiful lakeside resort of Sciez, where you can visit the cafés or go for a quick dip in the lake before hopping on the ski boat. Now, for those of you used to swimming in the baltic waters in the British isles (even in summer), you are in for a pleasant surprise. At the time of writing this blog, the water temperature on Lake Geneva is 22 degrees Celsius and rising probably peeking at 26 in August, so no sharp intake of breath when you hit the water.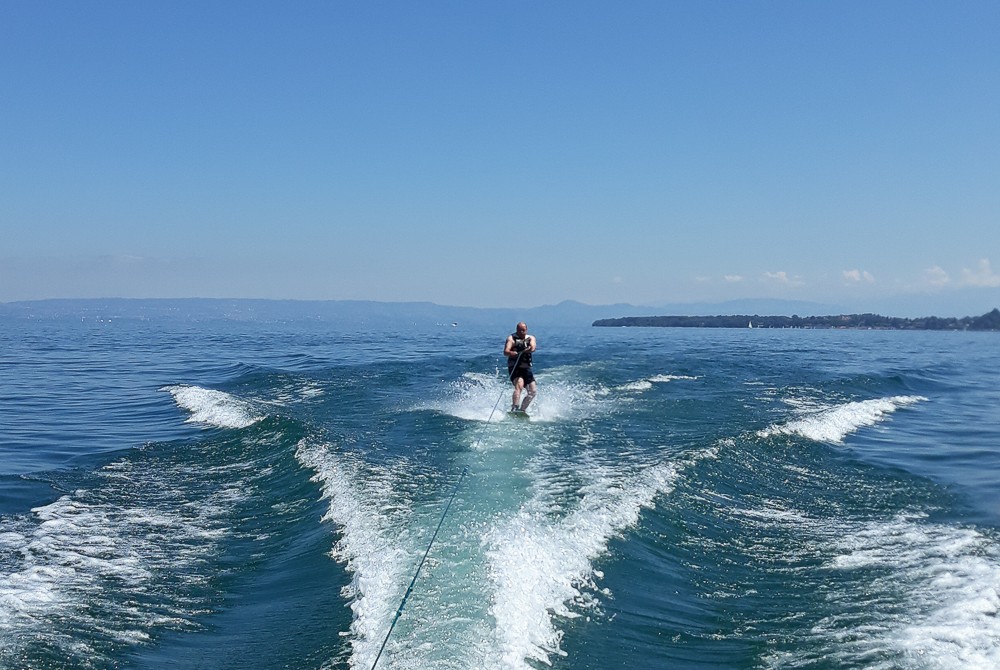 Here you will be given all the help you need from the instructors, from how to get into the wake board/water skis, to lifting you out of the water and actually water sking. You may think that it sounds impossible to water ski the first time out, but that's where you would be wrong!! Instructions are crisp, clear and extremely helpful, given by confident experts who will put you at ease immediately, tweaking your stance and posture. Once your up and running it is a great opportunity for friends to grab a few photos.
After the first session (normally there are three) you will be in need of a swim and something to eat. If you ask the instructors they can bring you to Excenevex, which is 2 mins by boat from Sciez. Here you will find a large natural sandy beach with sunbeds and little bars and restaurants. The sand is soft and luxurious and extends right into the lake and the whole area has a Mediterranean feel about it without the salt water.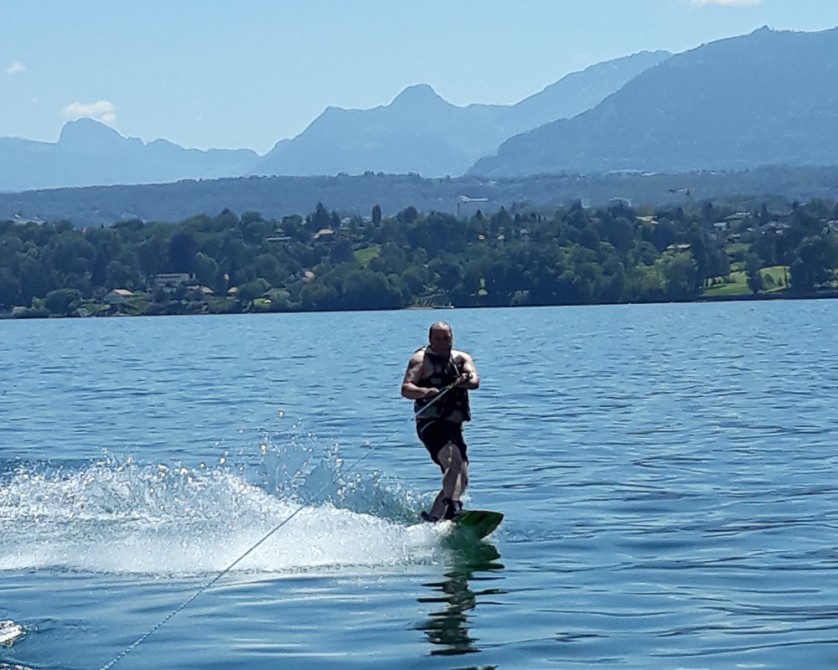 After lunch it is back to the boat and more water skiing. At the end of the day you might be taken by Yvoire village for a quick flyby and take in its stunning silver church steeple and historic castle and cute houses nestled right on the waterfront.
All in a wonderful way to pass the day.
The following are a selection of companies who will take you water skiing: