16 April 2020
Les Gets - End of the 19-20 ski season - Covid-19's impact
The end to the 2019-20 ski season came as a shock to everyone. On 14th March we had some 240 clients arrive, all looking forward to a great holiday. Most customers had spent all day travelling and had been planning their holiday for many months. Some were new to skiing and/or new to Les Gets and were excited to try something different, some had been to Les Gets many times. However, amongst many we checked in, they were nervous, with a lock down due to Coronavurus in Italy, that there could be a similar lockdown in France.
On Saturday evening, President Macron presented on the Television at 8:30 and explained that due to the fast increase in number of people that had been admitted into hospital with the virus, that his health advisors strongly recommended a lockdown in France. The following morning all the ski lifts were closed, restaurants and bars were shut, however, restaurants were allowed to serve take away meals and drink, so the village was buzzing with people relaxing, chatting and sharing stories outside in the winter sun.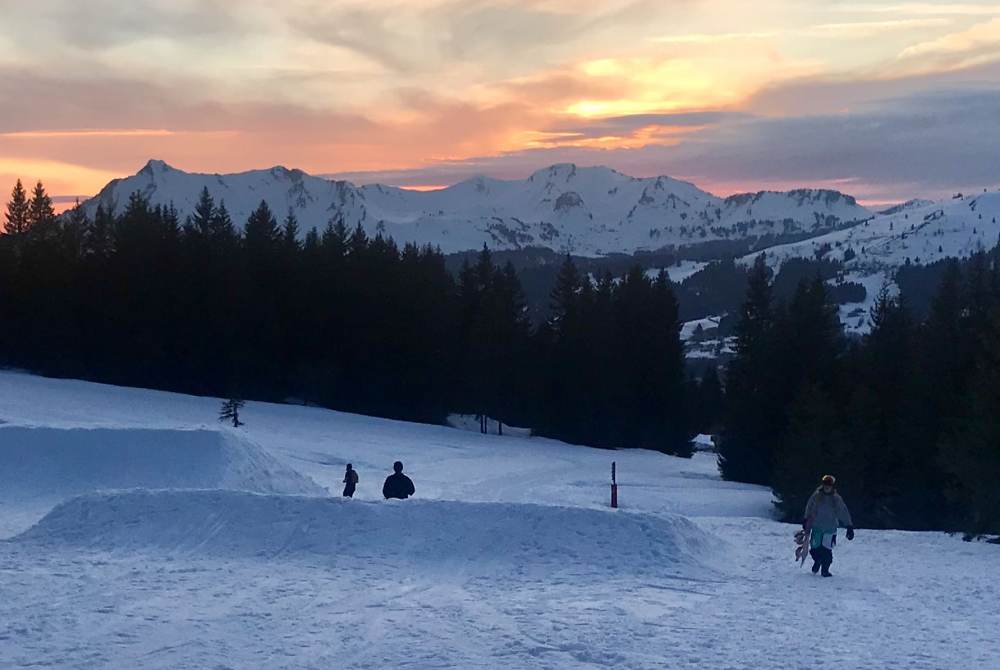 The picture above was taken at around 7:00 Monday evening when seasonal staff and locals were coming to the end of enjoying the freestyle area by Piste 64 on the Chavannes side, they were not to be deterred by the lack of lifts and walked up the pistes.
At 8:00 Monday evening (17th March) President Macron gave another speech and announced further measures to ensure people could not leave their homes, he also closed the borders to France. He mandated much stricter measures including the requirement to take a signed attestation with you whenever leaving your residence and this has to show your time of departure and the purpose of being outside. The only exercise allowed is one hour a day walking and you can't be more than 1 km from your home. Many more police have been drafted in to inspect attestations.
However, from what we hear, life is far more civilised in Les Gets and there is less panic than in other places. Our daughter reported as early as 19th March (before a lockdown in the UK) of not being able to buy loo paper in Maidenhead in the UK, we made her very envious when we sent her a picture taken in the local Carrefour (St Jean d'Aulps) of the piles of loo rolls in stock on 19th March.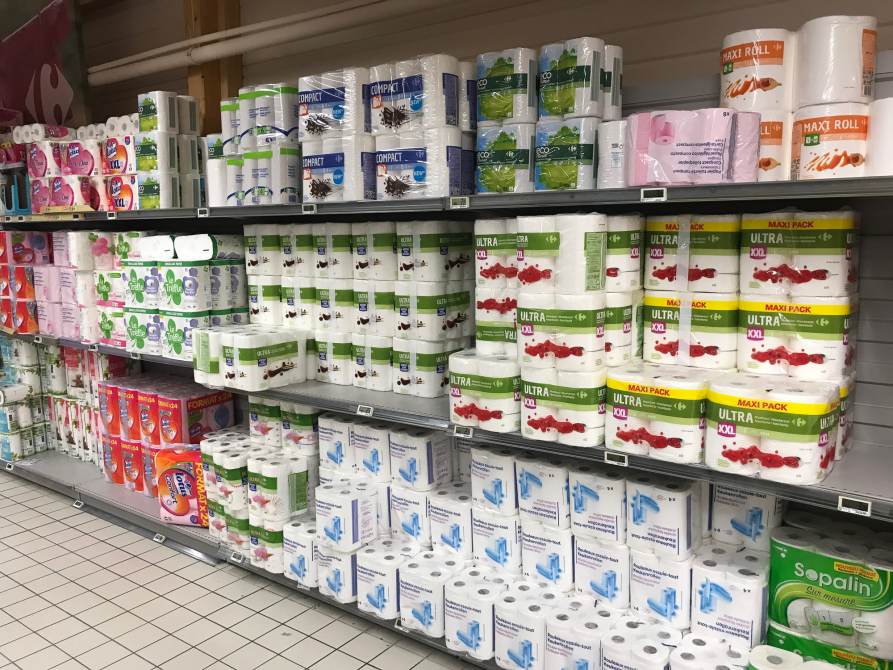 We had the difficult task of helping all our clients leave their holiday in Les Gets early. With the border between France and Switzerland being closed, people were only allowed to Geneva Airport with a valid boarding pass to fly back to their home country. Once the announcement was made, some customers who had driven from Holland, UK or Belgium left early on the following morning to ensure they would be able to cross the border. This was a very difficult week, as having welcomed many customers on the Saturday, we were then helping them leave under emergency conditions.
Suzi and Morgane are now working from home - we have a VOIP telephone system with a cloud switchboard so it is as though we are all in the same office.
After 14th March, we have had many nights where the temperature has fallen below zero, the snow blowers would have been working hard. The piste would have been good in the morning. Avoriaz would have had good conditions to the end of the day.
The picture above shows the snow blowers at the Chavannes mid station, taken on 22nd March - you can see how good the piste is.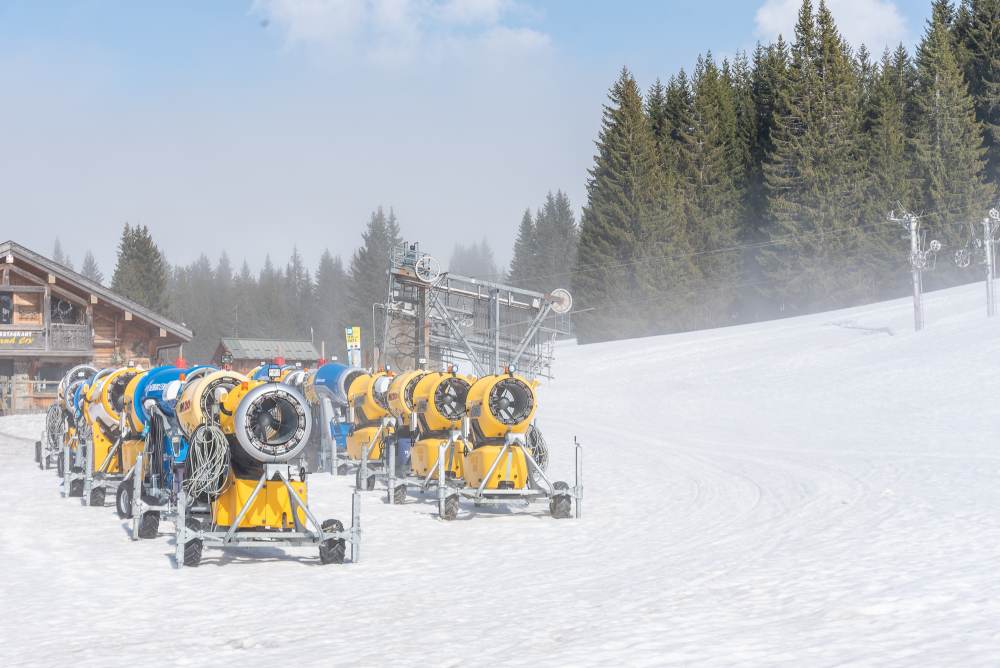 However, the reality is that there are now far more people in the village than there normally are after the end of the ski season. One of the owners of the chalets we manage came out on 7th March with their children and decided to extend their stay rather than go back to a city – they clearly felt it would be a much better life under lockdown in Les Gets than in a crowded city. There are clearly quite a number of others who have a second home in Les Gets, who have decided to stay here rather than go back to their city home. We have been enjoying beautiful daily walks up the mountain and through the woods, of which there are many directly from our property. Of course, our walks are limited to an hour and 1km – but there is still enormous scope.
The picture opposite/above was taken from close to the Chavannes mid station, of Mont Chery, on one of our many walks, on 22nd March.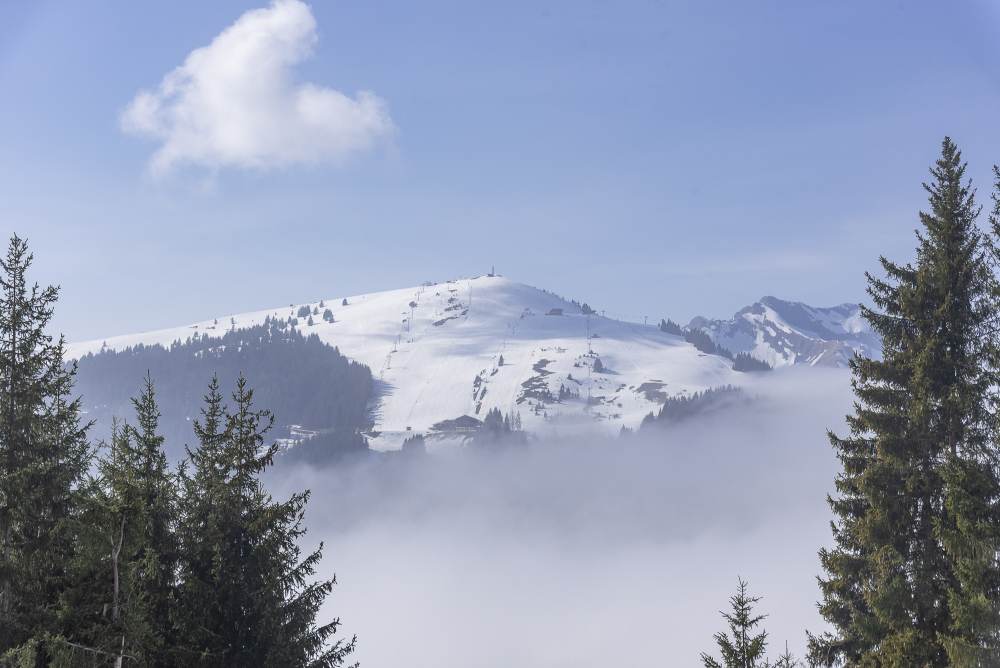 This picture was taken from the top of the Les Folliets lift, close to the Vaffieu restaurant with Point de Nyon in the distance. This was on 11th April, just a few days from the planned end to the ski season. This is part of one of our walks from Chalet Hastings, going up the Nabor Road, through the golf course, and out onto the Chavannes Road at the Golf course. Whilst there are a few patches in the snow, had the snow blowers and pisteurs been active, it is clear that the piste would still have been in good condition.
We are now working hard, speaking with each customer to help them either with an insurance claim or to help them move their booking to the 2020-21 ski season. We are now changing our terms and conditions with clients such that if there is another lockdown due to Covid-19, then customers will have the option to move their booking to the following ski season and so have a guarantee of not losing their money.
We wish all our customers good health and hope to see you next ski season.
Mark and the Chalets1066 team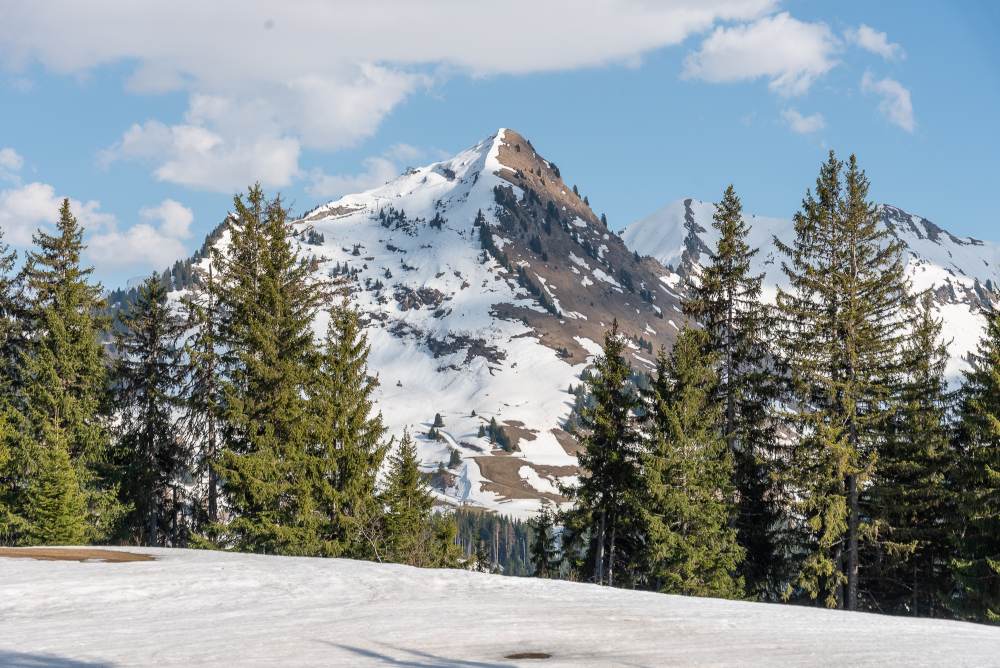 Apartment Edith - Light, airy apartment with fantastic views of Les Gets. Ski back route and bus stop outside

7

3

2

Chalet R'Mize - Very spacious chalet with hot tub and sauna, wood burning stove. Close to the lifts

8

3

2


6

3

2