Camp America - Morzine - Open air museum dedicated to WW2
15 July 2018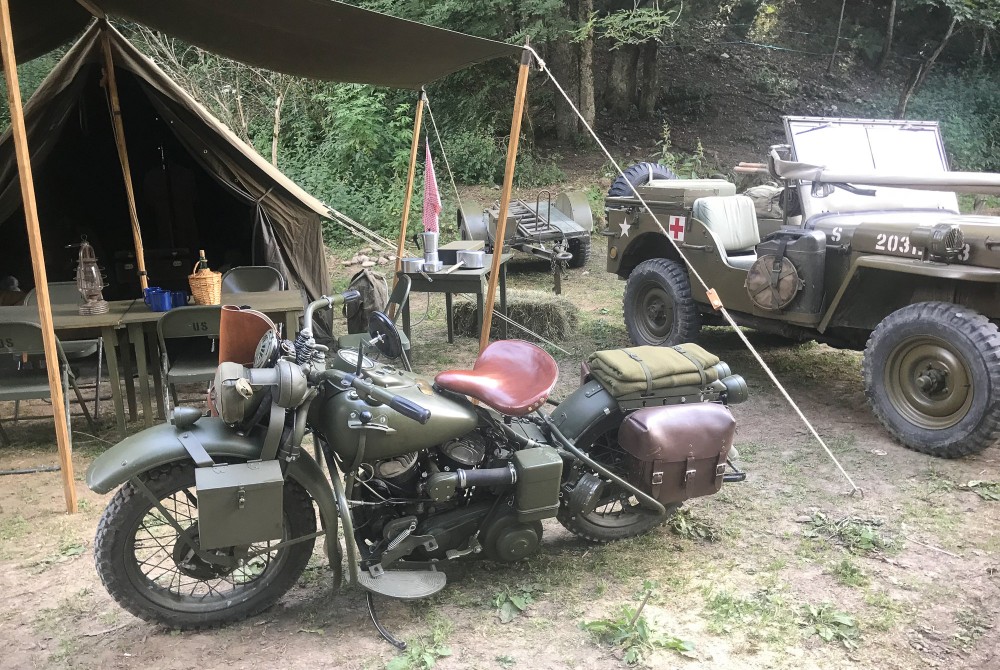 Once again the wonderful camp America comes to Morzine from the 13th to 15th of July.
What's Camp America I hear you ask? Well it's like a fantastic open air museum dedicated to WW2 memorabilia located this year behind the swimming pool in Morzine.
Every detail is truly authentic, from the buttons on the uniforms to the wheel nuts on the Willy's jeeps. The first thing you come across is a sentry box with the letters HALTE written on the barrier arm and which is manned by 3 armed German guards!! Listen and you will hear their commandant barking out orders to his men practicing their parade ground drill. Meanwhile, nearby the Americans are propping up the bar listening to the fabulous Andrew Sisters tribute band with their glorious red lipstick and jaunty army caps. The vehicles are truly amazing, there are half track troop carriers, machine gun mounted motorcycle side cars, ambulances and period cars. This year sees the camp located beside a picturesque lake and emerging out of it is a machine gun mounted half track.There are 7 meter high watch towers sprinkled throughout the camp and rather than containing armed guards they are in fact playing 'We'll meet again" by Vera Lynn.
On the equipment side you'll find German stick grenades, bazookas, carbine rifles, Lugers and machine guns of all sorts from heavy to light. The atmosphere is electric and soldiers of all nationality are happy to answer any questions you might have regarding equipment etc.
Bring the little ones and it will open their eyes and perhaps inform them a little more of our history brought to life! All in all, a great day out, truly recommended and all free!