Les Durs à Cuire - Original restaurant - Centre Les Gets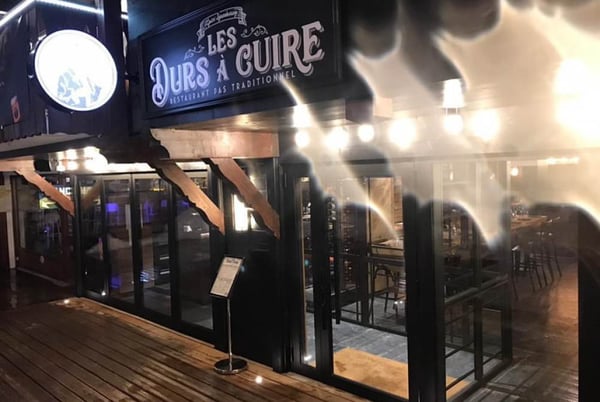 Take the resort of Les Gets, 5 friends: Algan, Eddy, Jean Philippe, Romain and Rodolphe and all with a great professional knowledge of bars and restaurants through 2 bars: the Barbylone and the Black Bear. Mix it all together and you get the recipe of the restaurant Les Durs à Cuire.
Les Durs à Cuire, a restaurant located in the heart of the village in the Rue du Centre, will welcome you in a Speakeasy style, just like the clandestine bars during the Prohibition era, when the sale of alcohol was forbidden. Once you have passed through the doors, you will be welcomed by the members of our dynamic, epicurean team who will take great care of you, detailing the menu and dish of the day, the wine list, with a mix of seriousness, relaxation and humour that is their own.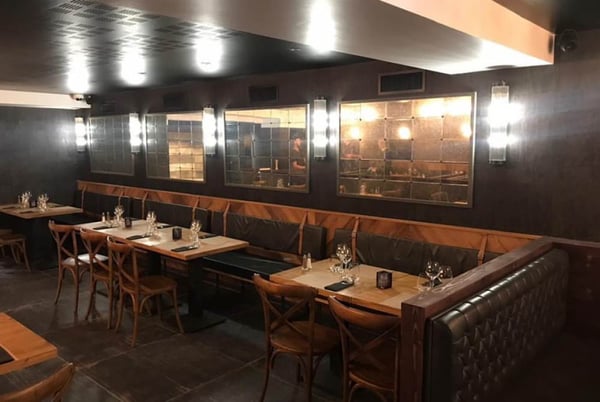 The restaurant proposed a menu with a lot of dishes of fresh home-made products concocted by Rodolphe the chef and a team of motivated people. Come and taste the clementine and kumquat jellied foie gras, the scallops with carrot purée and orange zest, bacon and coriander, the fischcake, mustard cream and poached eggs as a starter. You will also have a wide choice of dishes with different meats: beef (whiting, pear...), duck (sauce with kaki, mango and sweet peppers or pears), fresh fish according to the season. Our recipes change several times a week to offer you more gourmet pleasures. And to finish on a sweet note, Les Durs à Cuire offers excellent desserts such as Ben and Jerry's Homemade Ice Cream, dark chocolate blueberry ganache, smoked black tea ice cream and puffed quinoa. Don't wait any longer, come and discover our original menu in an atypical and friendly atmosphere.
And to rediscover the atmosphere and flavours of the "Durs à Cuire" in take-away version, nothing better than a stop at the DAC, located at 412 rue du Centre, an extension of our famous restaurant, offering delicious Burgers, egg in all its forms, breakfast formulas, bagels, sandwiches, Fish & Chips, cold and hot drinks, etc.
See you soon,
Les Durs à Cuire
View our accommodation

Chalet Boreal - Ski In/Ski Out, Close to the Village Centre, very close to the lift, 5 bedrooms, log fire, sauna

11

5

3